Discover more from Wednesday Wisdom
Wednesday Wisdom (#6)
WHOOP, The Man Who Solved the Market, Lockdowns Improving Air Quality, Night on Earth from Space
Hey everybody 👋,
Greetings from Chicago.
I was talking with a friend this week who asked, "how's the writing going? Is it getting a bit easier each week?"
I said, "definitely, having a good note-taking system (second brain) helps capture and save ideas that I want to write about. Since we're all stuck at home, it's nice to have found a new hobby."
I'm making it sound easier than it is—but the truth is every Wednesday morning when I hit publish on this newsletter, I can't wait for the following Wednesday to hit publish again. That's how you know you discovered something special.
On that note, I appreciated Packy McCormick's transparency on the growth statistics of his newsletter, Not Boring. Packy is a fellow Write of Passage alumni and someone I've looked up to as I started writing. His weekly newsletter is terrific and I would definitely recommend subscribing. I said last week that starting with no audience can feel like you're shouting into the void.
As this is only my 6th issue, I've been overwhelmed by your responses so far. Thanks to everyone who reached out with feedback on what I've shared so far. The conversations are incredibly motivating — if you would ever like to chat, I encourage you to reply to this email or send me a DM on Twitter!
P.S. If you missed last week's newsletter, you can check it out here. I talked about The Power of Twitter, Writing to Improve your Thinking, Chicago Architecture, Consumer Spending Patterns.
---
Coolest Things I Learned This Week
WHOOP Activity Tracker
I can't remember the last time I listened to a full podcast. Without the commute to work, I'm guessing many of you are in the same boat.
This past week was supposed to be Masters week. Naturally, my curiosity piqued when World No. 1 Rory McIlroy sat down with WHOOP founder & CEO Will Ahmed.
In their wide-ranging conversation, Rory talked about:
His relationship with his parents and his appreciation for their hard work (8:55)

"They were working so hard. My mum didn't have to work night shifts, but she was working to make more money to help support me and my dream. It was always my dream. It was never theirs."

His 2011 Masters collapse (15:38)

"On the last day, I was trying to be someone else that I wasn't. I was almost trying to be like Tiger Woods. I was trying to be hyper-focused, not look at anyone, not talk to anyone, real business-like. That's never been me."

Searching for an edge on his competition and discovering WHOOP (30:32)

"The difference between the No. 1 ranked player in the world and the No. 100 is actually pretty small. For me, I want to do everything I possibly can to get an advantage. For me, WHOOP is one of those things that can give me an advantage."

How alcohol consumption affects sleep and recovery (45:17)

"Before I wore WHOOP, I drank a lot more than I do now. I've looked at other people that wear WHOOP and my resting heart rate with alcohol is at least 10 beats faster, if not more."

Natural talent vs. hard work (1:00:00)

"There's two guys where I live [in Jupiter, Florida] that practice harder than anyone else. It's myself and Justin Thomas. There's no coincidence why we're two of the best players in the world."
Rory also recommended Digital Minimalism by Cal Newport, which I plan to read.
What intrigued me about WHOOP was Rory and Will's conversation about the importance of data accuracy. The University of Arizona published a study that validated the WHOOP strap as one of the most accurate sleep tracking devices.
Perhaps it was clever marketing, but I got influenced and ordered one to see how it compares with my Apple Watch. I'll report back with results in a future edition of the newsletter.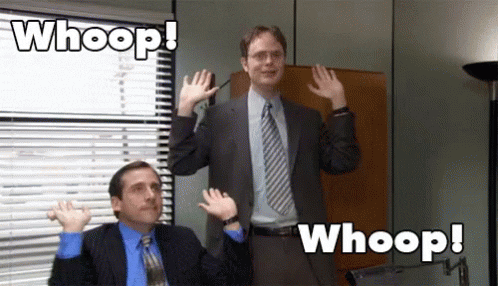 ---
The Man Who Solved the Market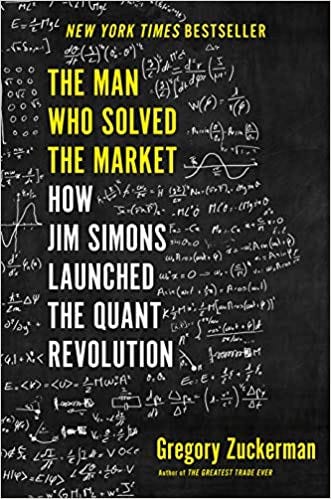 I started reading this book on Saturday and couldn't put it down. Greg Zuckerman writes about the secretive quantitative hedge fund Renaissance Technologies founded by mathematician Jim Simons.
Simons, who has advanced mathematics degrees from MIT and UC Berkeley, is regarded as the "world's smartest billionaire".
Renaissance's signature Medallion Fund is famed for having the best investing track record in history, generating a mind-numbing 39% annualized return from 1988-2018 after charging a 5% management and a 44% performance fee.
"To put this performance in perspective, $1 invested in the Medallion Fund from 1988-2018 would have grown to over $20,000 (net of fees) while $1 invested in the S&P 500 would have only grown to $20 over the same time period.  Even a $1 investment in Warren Buffett's Berkshire Hathaway would have only grown to $100 during this time." 
What made Medallion so successful? Former co-CEO of Renaissance, Robert Mercer said:
"We're right 50.75 percent of the time . . . but we're 100 percent right 50.75 percent of the time. You can make billions that way."
The story of Simons and Renaissance has a heavy focus on rules-based quantitative algorithms, but Simons' life also has a very human element. He lost one of his three sons to a biking accident in 1996. In 2003, his other son drowned while diving in Bali.
If you are interested in learning more about Simons, I highly recommend Zuckerman's book and this interview he did with TED Talk.
---
Lockdowns Improving Air Quality
A graphic from Financial Times about the temporary slowing effects Coronavirus is having on global climate change momentum.
The downside is that climate-related matters will be put on hold during the next 6-12 months as countries focus on an economic recovery.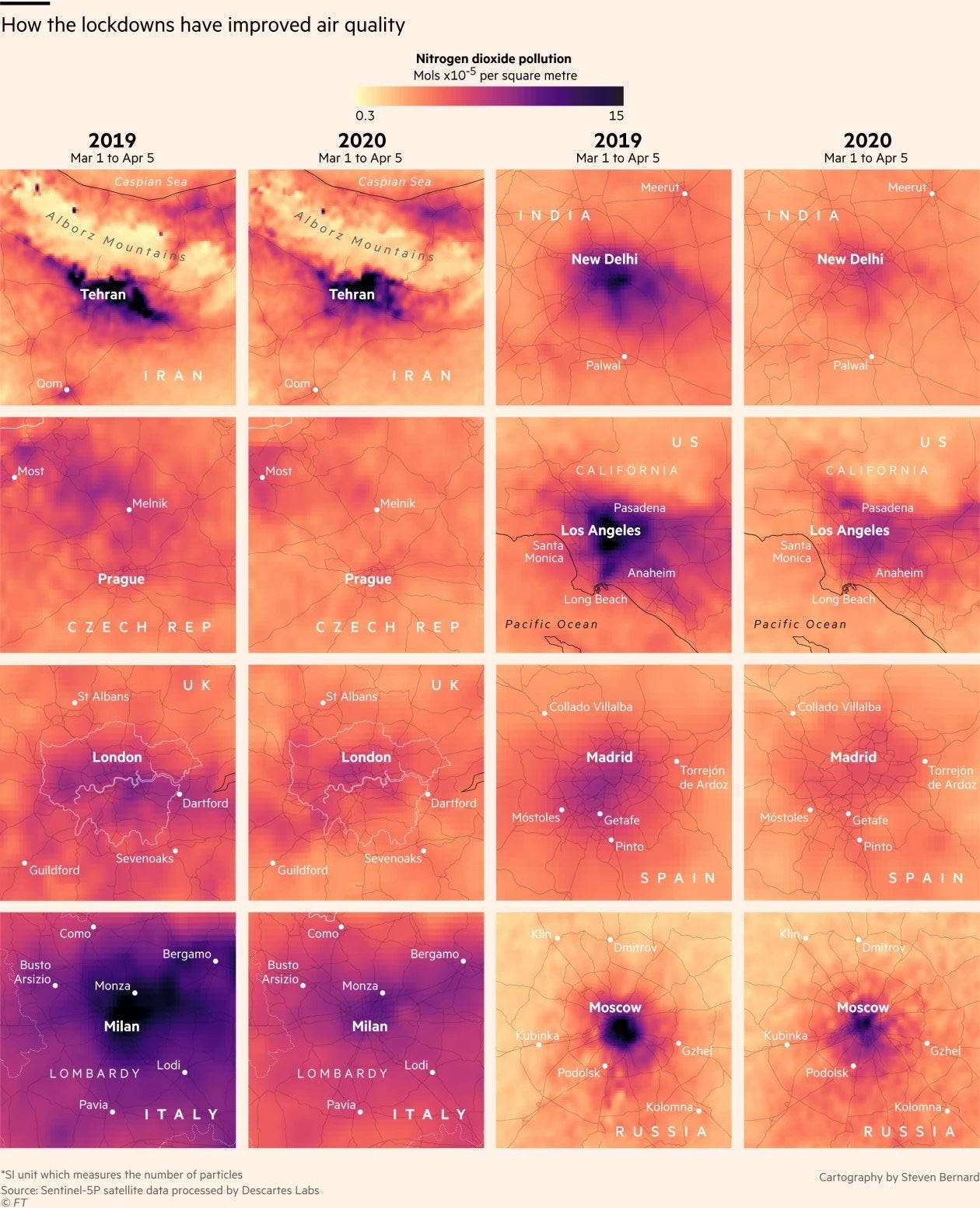 ---
Night on Earth from Space
I recommend watching this in full screen and with the sound off.
The video is a reconstruction of time-lapse photography from the International Space Station.
Stunning.
---
That's all for this week's Wednesday Wisdom. Feel free to forward this to anyone you like. If you have any feedback, advice, or thoughts on what I shared, email me at lev.naginsky@gmail.com or tweet me at @levnaginsky
Until next week,
Lev