Discover more from Wednesday Wisdom
Wednesday Wisdom #23
The golf edition ⛳
Hey everybody 👋,
Greetings from Chicago! 
After Write of Passage ended last week, I've been feeling pretty tired and unmotivated to write. With a busy work schedule ramping up and alumni mentoring, July felt like I had two full-time jobs. Plus, sheltering in place has made it hard to stay focused week after week and I decided to give myself some time to decompress from it all.
Jeff Bezos talks about work/life harmony. If we're happy at home then we come to work with more energy and if we're happy at work then we return home with more energy. Problem is, when we're confined to the same space for too long, we need a spatial detox. This has been difficult during the pandemic because our current state is stationary. If our environment doesn't change, our brains get foggy and we can't think well.
Over the past few weeks, all I've wanted to do was be outside playing golf. I grew up playing the game in high school and college. Since we now live in the city without a car, it's harder to get out to the suburbs to play a full round like I did when I was younger.
Golf has always been a therapeutic game for me. When I'm feeling stressed, nothing helps quite like walking 18 holes. I'm excited to play more over the next month as summer comes to a close!
---
In this week's newsletter, I'll cover:
🏌️ A Tradition Unlike Any Other

⛳ Northern Michigan

🎥 Erik Anders Lang

🏆 Collin Morikawa
If you missed last week's issue, you can check it out here. I discussed my takeaways as a Write of Passage alumni mentor, writing sprints, personal monopolies, helmet designs, and more!
---
A Tradition Unlike Any Other
I recently published an essay about my experience as a caddie, which you can read here. One thing I didn't mention in that essay—every Tuesday morning for five years, I caddied for Mrs. Schlesak. The Schlesaks joined the club during my first year caddying and I was assigned to caddie for Mrs. Schlesak randomly through the standard draw process one Tuesday morning. Our personalities clicked and I kept caddying for her each week after that.
Over the years and many rounds, I got to know her game so well that I would simply hand her a club because I knew exactly how far she hit each fairway wood or iron and she trusted it. Mrs. Schelesak became a good friend and after some time I actually felt more comfortable calling her by her first name, Jen. When I went to college and stopped caddying, Ryan (blue shirt) took over Jen's bag from me. When Ryan stopped, Zach (red shirt) took over the bag. Jen is a terrific golfer, but she's an even better person. Of all the people I've caddied for, she was the only one I missed when I stopped.
Every year since we stopped caddying, Jen has been nice enough to invite us back to play a round of golf with her. The three of us are now well into our full-time careers, but we always look forward to our annual round of golf with Jen.
We're playing with her again this Saturday, and her game is sharp. She texted us this week that she won the ladies' club championship!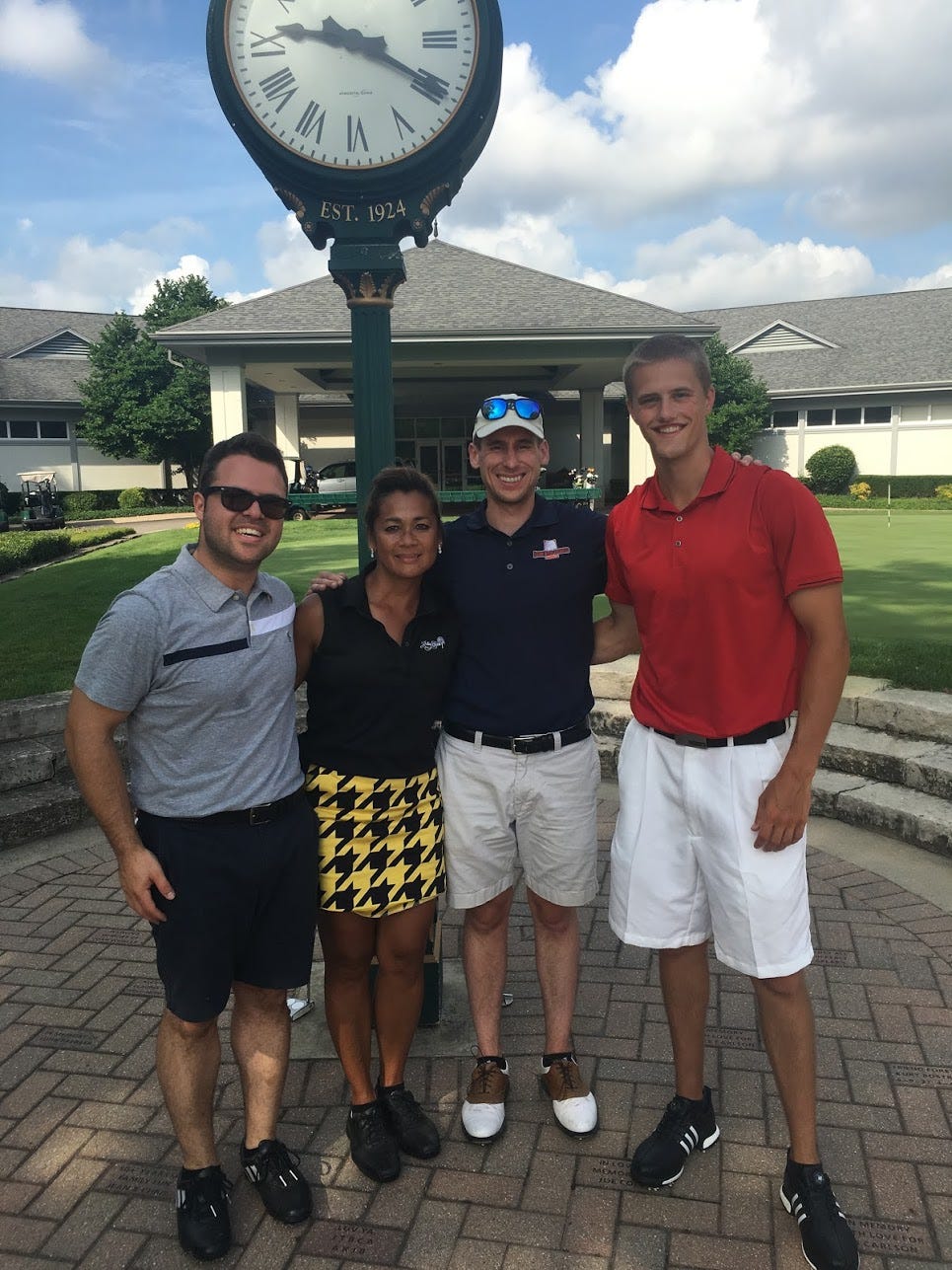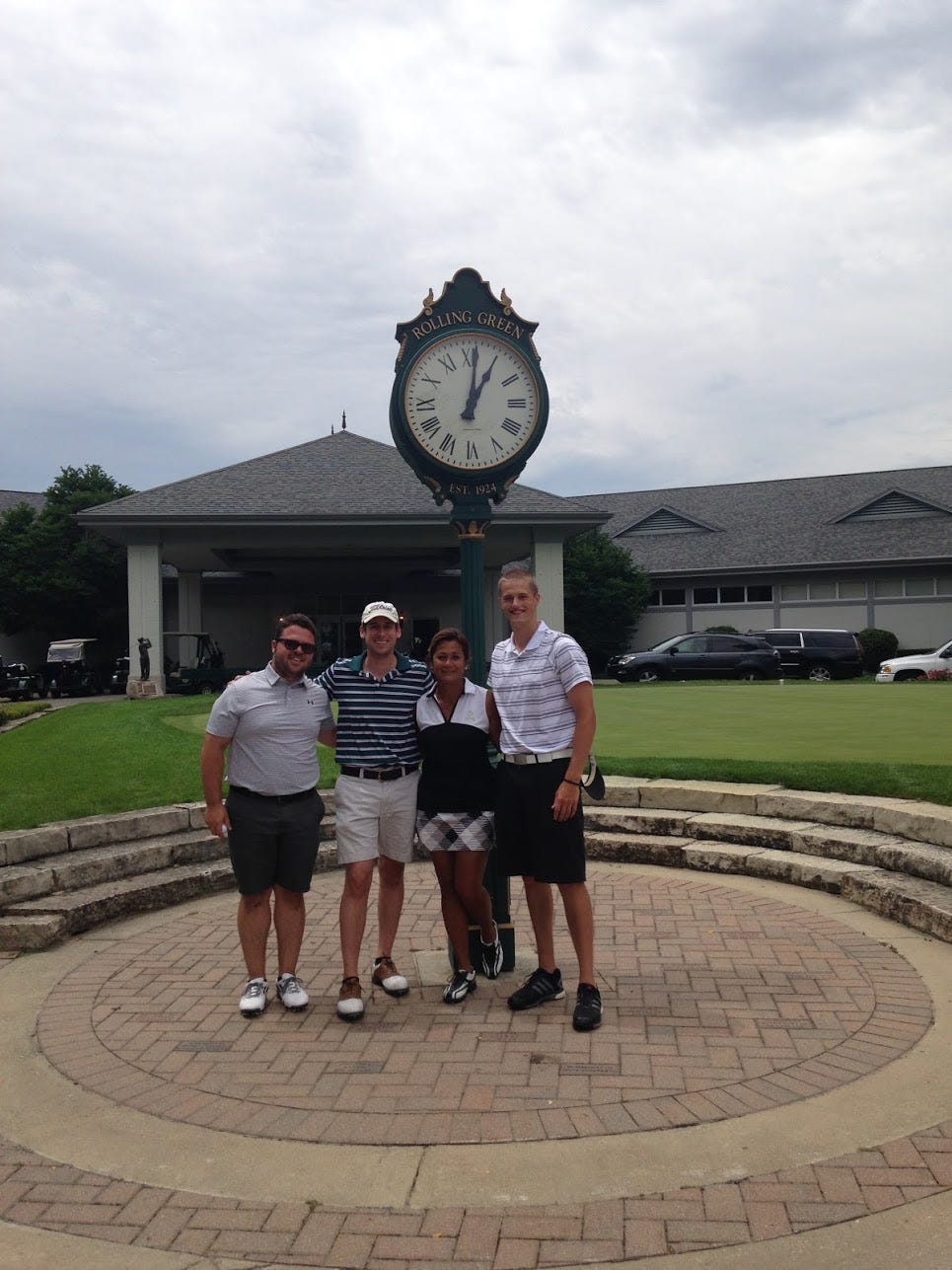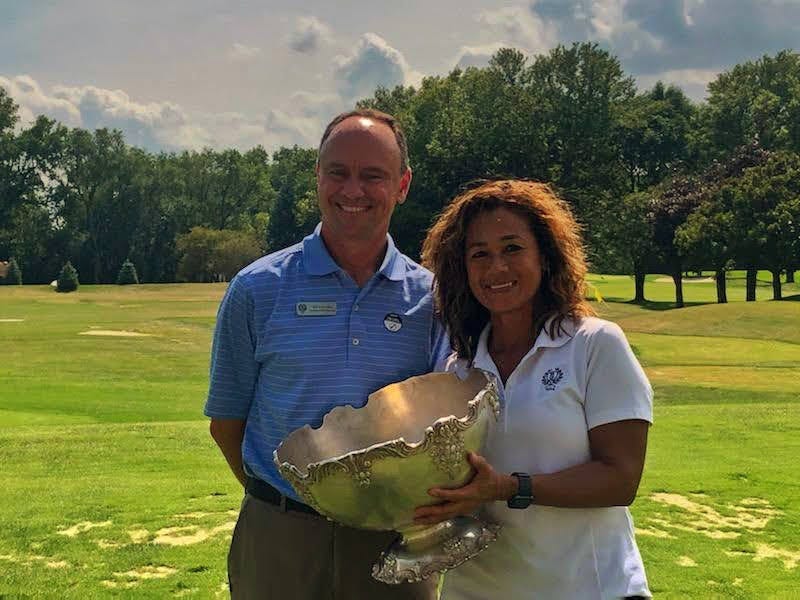 ---
Northern Michigan
Blair and I are taking a week off and driving up to northwestern Michigan at the end of the month. We're excited to get away from work and enjoy a quiet week. When we got engaged last year, our plan was to spend a few weeks in Europe this September. With the pandemic spreading in March and April, it was clear that we wouldn't be going anywhere internationally.
We found an Airbnb in Traverse City and look forward to exploring northern Michigan. I've heard so many great things from my friends David, Jen, and Matt.
Our current agenda is:
Sleeping Bear Dunes National Lakeshore

Wine tastings

Great food and cherry-picking

Golf! (this one is just for me, although I hope to get Blair to play one day)
Let me know if you have any recommendations for things we should do or see.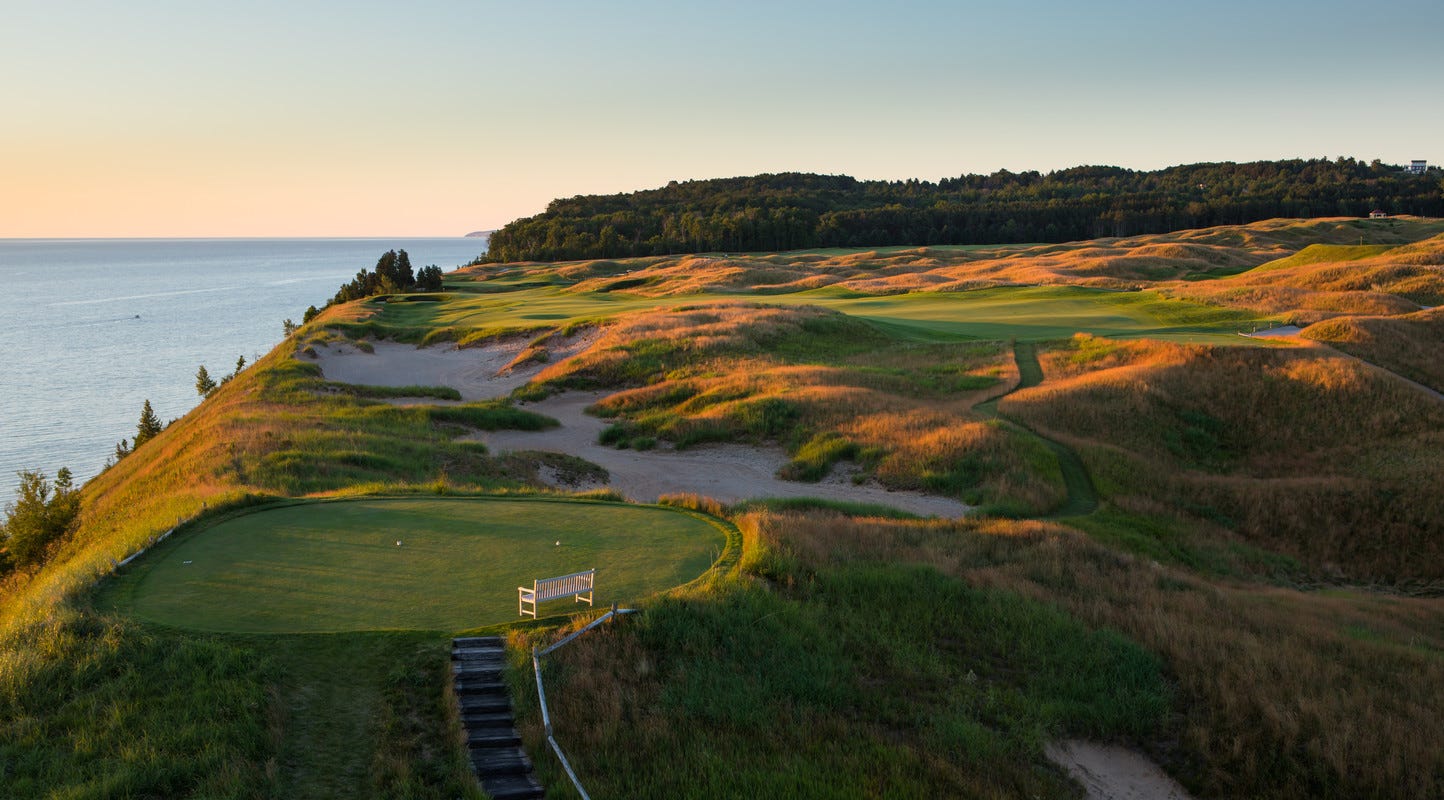 ---
Erik Anders Lang
I discovered Erik Anders Lang in mid-June and truly believe he has the greatest job in the world.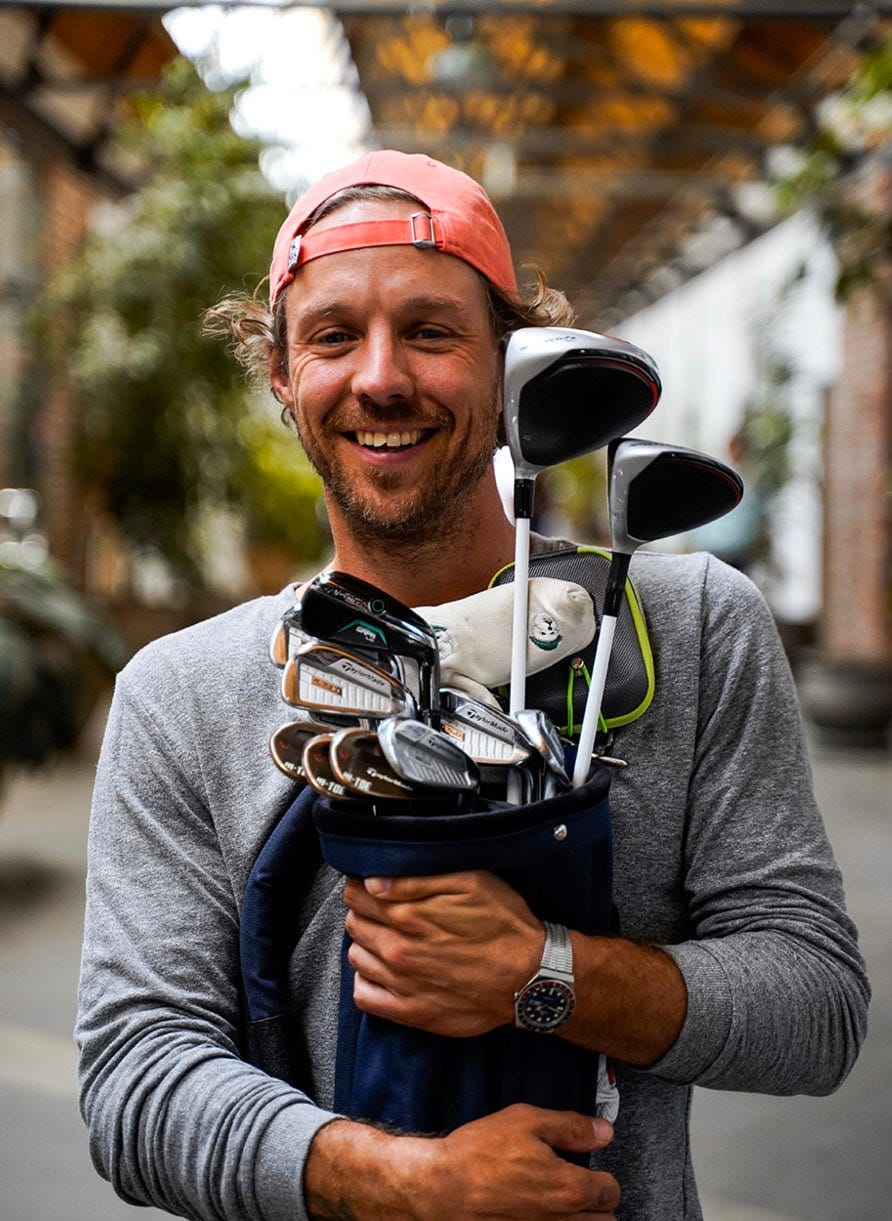 This is from a profile of EAL from last April:
Is he a journalist? He certainly behaves like one as the host, writer and creator of SkratchTV's popular YouTube show called Adventures in Golf. Is he a filmmaker? He's in the midst of producing a golf documentary called Be the Ball, which explores mental toughness in the game. Is he a social media influencer? Unquestionably. He has some of the fastest-growing Instagram, YouTube and podcast channels in golf. In truth, he's a little bit of every one of these things, each an expression of his curiosity and relentlessly authentic demeanor.
I've spent an embarrassing amount of time watching Lang's YouTube videos as he films himself playing at various courses around the world. They're beautifully edited and really make you want to travel and play the courses yourself.
The best way to describe EAL is the Anthony Bourdain of golf. Bourdain's shows weren't really about food. He used food to tell people's stories. I think it's fair to say that's what EAL is doing with golf content.
Below are some of my favorite videos he's made:
---
Golf's Next Generation
Collin Morikawa's PGA Tour career is certainly off to a fast start.
Won his first professional tournament in only his 6th career start.

Started his career with 22 consecutive made cuts, the second-longest streak to start a career since Tiger Woods' 25.

Won his second tournament directly after missing his first cut.

Joined Jack Nicklaus, Tiger Woods, and Rory McIlroy by winning the PGA Championship at 23.
It's been so fun watching this new generation of golfers who had posters of Tiger Woods on their bedroom wall come out and start dominating early. 11 of the current top 15 players in the Official World Golf Rankings are under the age of 31. Tiger is turning 45 this year.
Here's something that blew my mind: Morikawa was born just 66 days before Tiger won his first Masters in 1997.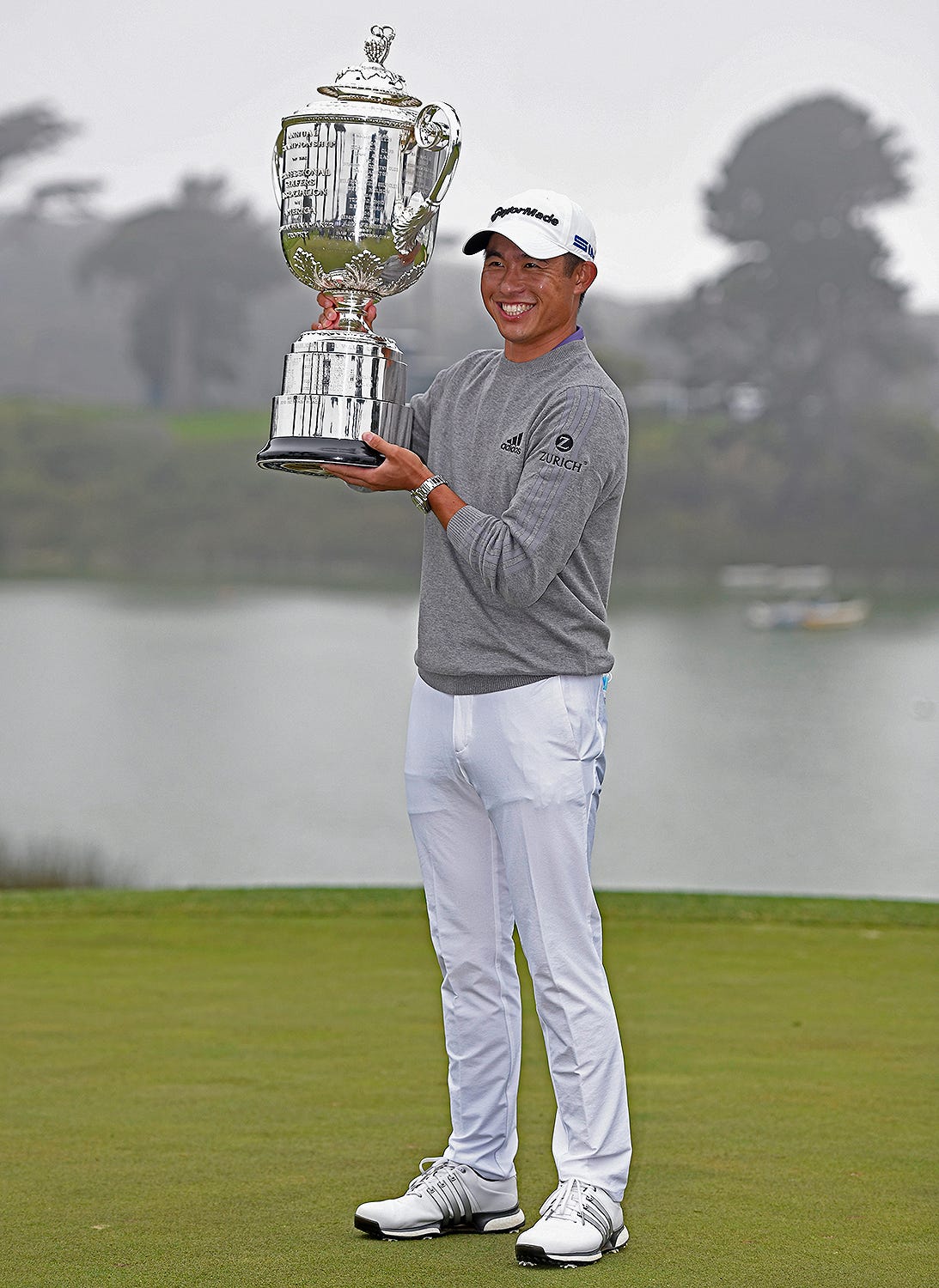 ---
Photo of the Week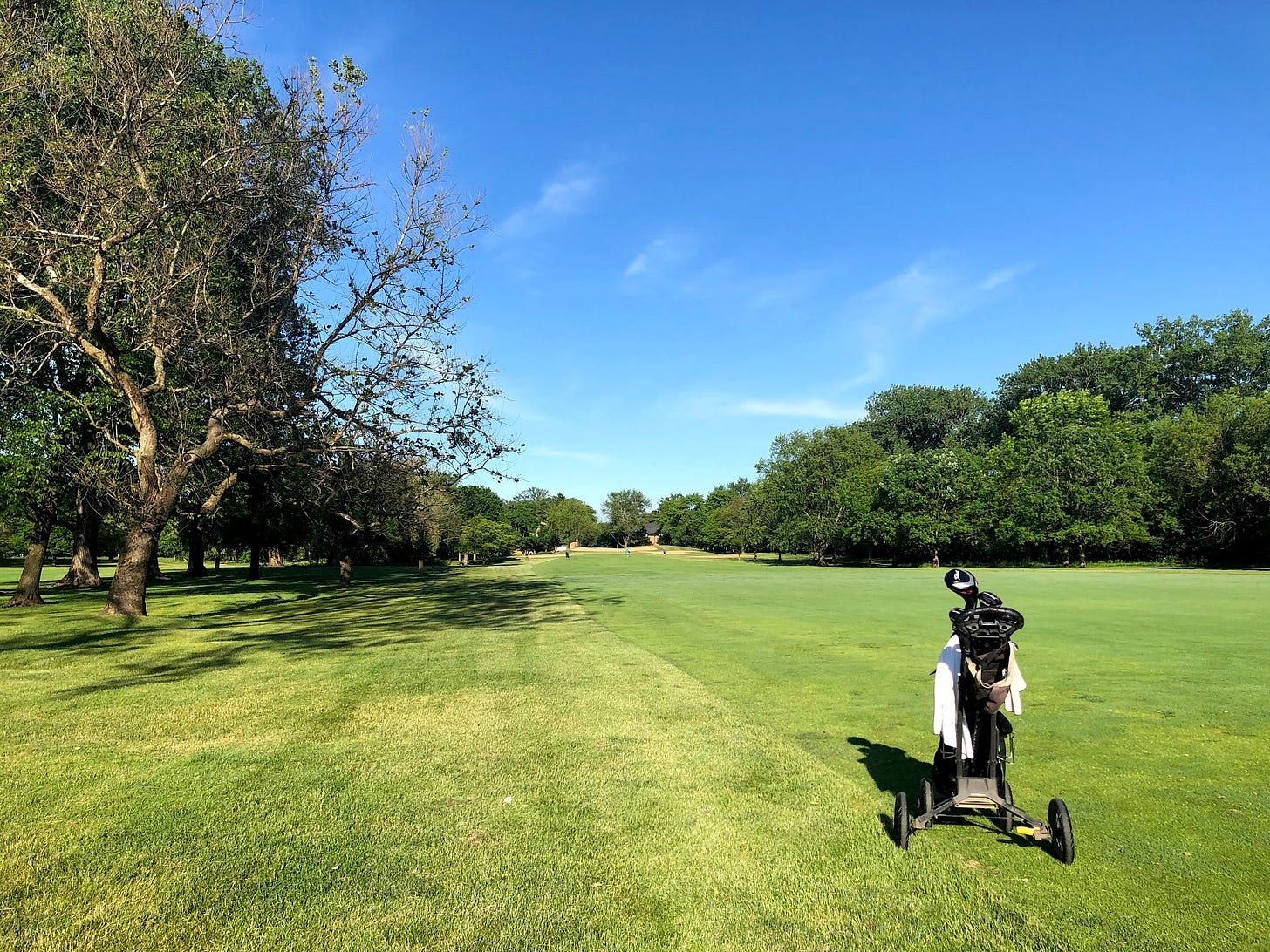 I played 18 holes this Saturday with my friends AJ and Ben. For those of you who are golfers, I played okay and shot 86. I don't get to practice or play much anymore so I wasn't expecting to break 80 but was happy with a number of shots including being pin high on both back-nine par 5's in two shots.
Until next week,
Hit them straight!
Lev