Discover more from Wednesday Wisdom
Wednesday Wisdom #2
Hey everybody 👋,
Greetings from Chicago!
It has certainly been an interesting week. Financial markets are in free fall. The world is virtually sports-free. Most importantly, COVID-19 cases in the US do not seem to be slowing down any time soon.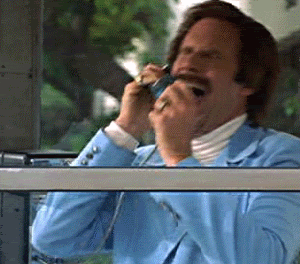 As such, I'm writing to you from my home office. Hopefully, like me, you're lucky and able to work from home for the time being. Below is a photo of my current home workstation. In order to feel more productive and comfortable, I ordered a new wireless keyboard and laptop stand. I would love to hear how everyone else has been handling more time spent in the home office. Reply with a photo of your setup 👇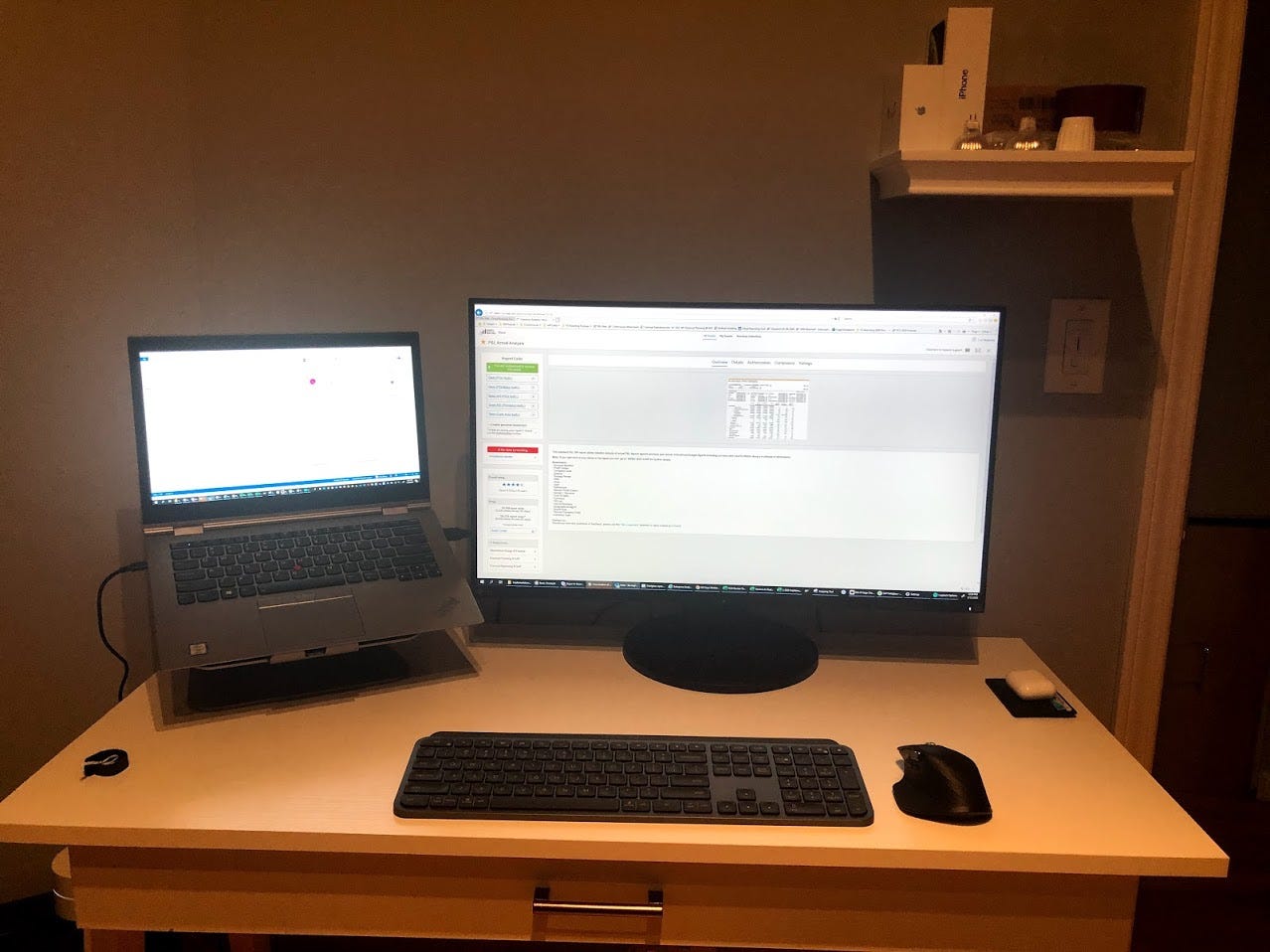 P.S. If you missed the previous newsletter, you can check it out here. Last week, I discussed the writing course I've been taking (that has pushed me to start this newsletter), The Ride of a Lifetime, a great article about Crispy Food, Netflix's F1 Drive to Survive, and Bottomless Coffee.
In this week's issue, I want to talk about:
The Best of Nick Maggiulli ✍️

Atomic Habits 📚

Readwise 🧠

When Media Cries Wolf 📰

---

The Best of Nick Maggiulli

✍️ This week's writing assignment for my Write of Passage class was a curation article. I wrote a blog post about Nick Maggiulli, better known as @dollarsanddata. He's one of my favorite financial bloggers. Nick uses storytelling and data to help readers understand complex financial topics like dollar-cost averaging or investing a lump sum. How to Invest a Lump Sum

Nick's ideas can be applied in personal finance, online writing, or life. He won't give you all the answers, but that's not the point. His writing helped me frame my own financial goals, and has given me the data to confidently make those decisions.

Nick's popular posts can be found here.

It felt amazing to see hundreds of pageviews on my website for the first time and nearly 20,000 impressions on my tweet about the post. The best part though was Nick's response.
---
What I'm Reading 🤓
📚 This week, I read Atomic Habits by James Clear. I've had the book reserved in my Libby app for some time, and it finally became available. Both in my day job as a financial analyst and starting this weekly newsletter, I couldn't wait to dig into the book to learn more about forming good habits. Let me tell you, it did not disappoint.
The book focuses on small changes that seem unimportant at first that will compound into remarkable results if you're willing to stick with them for years. Habits are the compound interest of self-improvement.
I found myself highlighting something on nearly every page because the book is packed with so many fantastic insights. Here are a few of my favorite.
Dealing with imposter syndrome and learning while doing:
"In 2014, my email list expanded to over one hundred thousand subscribers, which made it one of the fastest-growing newsletters on the internet. I had felt like an impostor when I began writing two years earlier, but now I was becoming known as an expert on habits—a new label that excited me but also felt uncomfortable. I had never considered myself a master of the topic, but rather someone who was experimenting alongside my readers."
The Plateau of Latent Potential:
How long does it take to become an overnight success? years.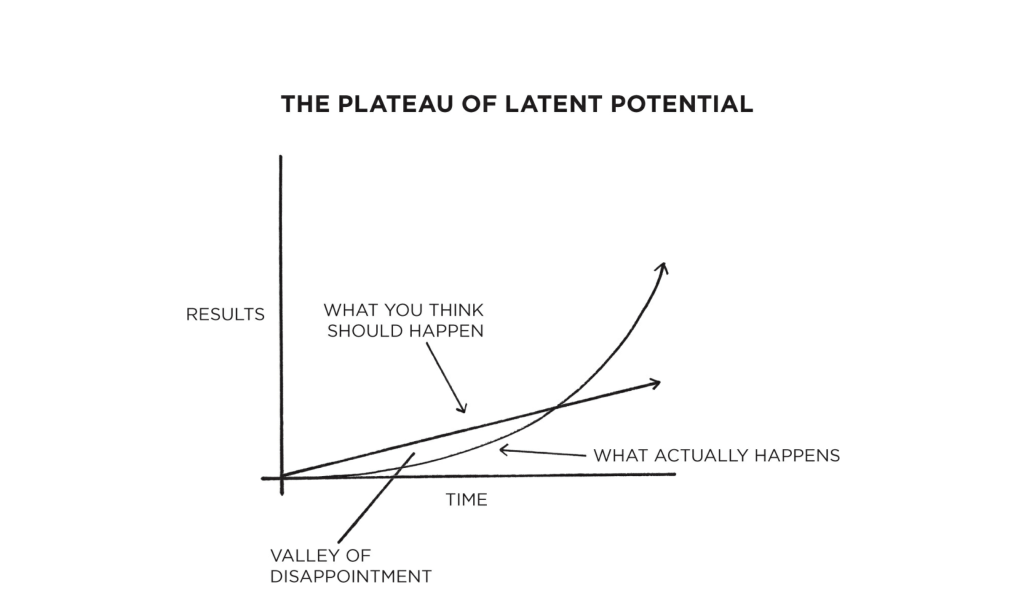 When you finally break through the Plateau of Latent Potential, people will call it an overnight success. The outside world only sees the most dramatic event rather than all that preceded it. But you know that it's the work you did long ago—when it seemed that you weren't making any progress—that makes the jump today possible. Change can take years—before it happens all at once.
This might be the best quote in the book and one that I will carry with me forever:
"You do not rise to the level of your goals. You fall to the level of your systems."
If you want better results, then forget about setting goals. Systems are for people who care about winning repeatedly. Goals are for people who care about winning once. The process always wins.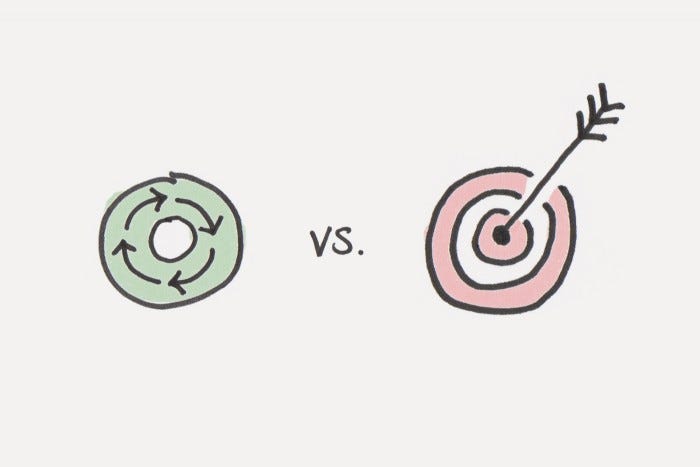 ---
Product of the Week: Readwise
🧠 Speaking of setting up good systems - by far the most important thing I've learned so far in Write of Passage is the importance of having a robust information capture system, a Second Brain if you will. Starting from abundance (library of ideas, notes, facts, and images) makes writing so much easier. This is where Readwise comes in.
Readwise's pitch is - "Get the most out of what you read." It syncs highlights from your Kindle, Instapaper, or Twitter. You can then sync those highlights to Evernote (home of your Second Brain) and have access to those notes forever.

At $7.99/month, Readwise is not cheap. However, being able to automate knowledge retention has been indispensable as I started writing and blogging regularly.
---
When Media Cries Wolf
📰 In his newest blog post, David Perell, who is my teacher in the Write of Passage course argues that we have desensitized ourselves to breaking news stories. He makes the analogy that we have covered our ears and learned to interpret "breaking news" warnings as just another wolf cry. Just like The Boy Who Cried Wolf, we have lost faith and trust in our news institutions.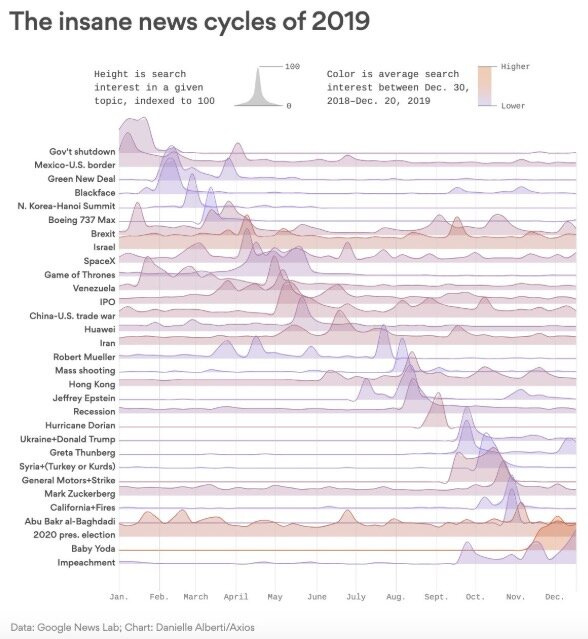 Now that we are indeed facing a real global crisis that demands immediate attention, it seems people are refusing to skip public events, quarantine themselves, or give the news the attention it deserves.
"Both individuals and government officials have ignored the wolf cries and continued with life as usual."
"For the past five years, the news has felt like a simulated reality. More fiction than fact, more entertainment than information. Cable news has drowned its audiences with a flood of fake conspiracies and apocalyptic scenarios, while markets have shot skywards and unemployment rates have fallen to an all-time low. At times, the spectacle of mainstream media has felt like a hallucination. We've become so certain of safety that we've stopped saving and laughed at "preppers" with concrete plans to save themselves from the kind of crisis we fear today. We have ignored the media for the past five years without consequences, but now the wolves are devouring our sheep."
David is a master at observational writing. He's able to make these incredible observations of the world and articulate them in an intriguing and memorable way. Once you've read his writing, you say "huh, I never saw it that way before, but now I'm seeing it."
I highly recommend his writing, start here.
---
That wraps up this week's Wednesday Wisdom. Please stay safe. Feel free to forward this to anyone you like. If you have any feedback, advice, or thoughts on what I shared, email me at lev.naginsky@gmail.com or tweet me at @levnaginsky
Until next week,
Lev