Discover more from Wednesday Wisdom
Wednesday Wisdom #19
Issue 19: Python for Kids, If I Ruled the Tweets, The 100 Hour Asset
Hey everybody 👋,
Greetings from Chicago! It's been another whirlwind week.
I was talking with the other Write of Passage Alumni Mentors yesterday and we all noted how behind we feel on our own writing. We're creating slides for our individual sessions, staying active on the course forum, giving article feedback, and staying on top of conversations on Twitter—we're all feeling it. I'm comforted that it's a juggling act for all of us, not just me. The support and positivity we see from students in our class has blown away our expectations and that's keeping us energized.
On Saturday, I drove to Evanston and met Sid Jha in person for the first time. Sid just graduated from Northwestern but is moving to DC in a few weeks to start a new job.
If you don't already follow his newsletter Sunday Snapshots, you should. His writing focuses on books, technology, and psychology. He's someone that inspired me to start writing in February. I continue to look to him for inspiration and guidance in my own quest to find a personal monopoly, solidify a writing habit, and think critically about the things I read. We discovered our backgrounds are similar in that we're both only children and moved frequently in our childhood.
When I wrote about connecting with people in The Power of Twitter, Sid is the embodiment of the kind of person I want to keep networking with, learning from, and meeting in real life.
---
In this week's newsletter, I discuss:
📚 Python for Kids

🐦 If I Ruled the Tweets

⌛ The 100 Hour Asset

☄️ Comet NEOWISE

🌵 Spiky Point of View

and more!
---
Currently Reading
Last week, I discussed my 12 Favorite Problems—the questions that drive my learning and the filter by which I decide what to spend my productive time on.
Question #5: What's the best way to learn Python to automate parts of my job?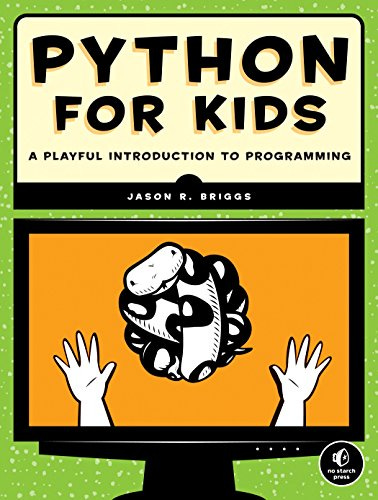 My friend Zakk Fleishmann wrote a great post about learning to code where he says that programming skills will start to normalize much like Word, Excel, and PowerPoint have over the last 20 years.
So, how should one approach learning to code at a beginner level? Zakk recommends three books. Python for Kids, Python Crash Course, and Automate the Boring Stuff with Python.
I started diving into Python for Kids this week. As Zakk says, don't let the name turn you off—it's not surface level or too kiddy. So far I'm exploring calculations and variables, and getting an introduction to strings, lists, tuples, and maps. I'm excited to keep reading and practicing these lessons and eventually being able to say that I too know how to code.
---
Packy McCormick—the writer of one of my favorite newsletters Not Boring, published a terrific article this week about everyone's favorite punching bag company, Twitter.
Packy argues that Twitter is the most under-monetized product in the world because it doesn't know what it is, capturing almost none of the value it creates.
Twitter thinks it's an ad product, but it's a subscription product. It thinks it's an Aggregator, but it's a Platform. It thinks it's a social network, but it's a professional network: one built for the Passion Economy, based on the strength of ideas instead of past experience.
That realization should be liberating for Twitter and Jack Dorsey. Instead of being the world's least innovative social network, it can be its most innovative professional network. Twitter should be the beating heart of the Passion Economy, and begin capturing some of the tremendous value it creates.
Packy cites some great examples and says that Substack would not exist today in its current form without Twitter. Most newsletter writers grow their subscribers primarily through Twitter's graph, for which Twitter collects almost no revenue.
If Twitter were to create a product similar to LinkedIn, charging some users for professional and advanced features, it could unlock a revenue opportunity of nearly $1 billion per year quite easily.
My Twitter Profile would be what a LinkedIn Profile would be if it were a living, breathing thing, created in and for 2020, based on what I'm currently creating and consuming.
Here is Packy's thread summarizing his ideas:
I hope Jack Dorsey and those in control at the company take these ideas seriously and implement them.
---
Nobody writes short articles better than Seth Godin. Last week he published The 100 Hour Asset which resonated with me immediately.
Main take-aways:
To acquire a valuable new skill, you need to invest ~100 hours.

99% of us are not willing to put in the time or energy to do this. Those who can do it gain something of value that others don't have.

If you invest 20 hours per week for a year (1,000 hours)—you can master an entirely new category.
It's human nature to crave immediate results, so it can be discouraging to invest time in something and not see the payoff right away. It reminded me of a quote from James Clear in Atomic Habits:
"The ultimate form of intrinsic motivation is when a habit becomes part of your identity. It's one thing to say I'm the type of person who wants this. It's something very different to say I'm the type of person who is this."
The greatest threat to our success is not failure, it's boredom.
We jump from one workout to another.

We jump from one diet to another.

We jump from one business idea to another.
"Access to knowledge isn't nearly as difficult as the desire to learn."
As I'm learning how to code or developing a more consistent writing habit, reading habit, or workout habit, I have to constantly remind myself that long-term tangible results will only come from consistency.
Progress > perfection, always.
---
Comet NEOWISE in Chicago ☄️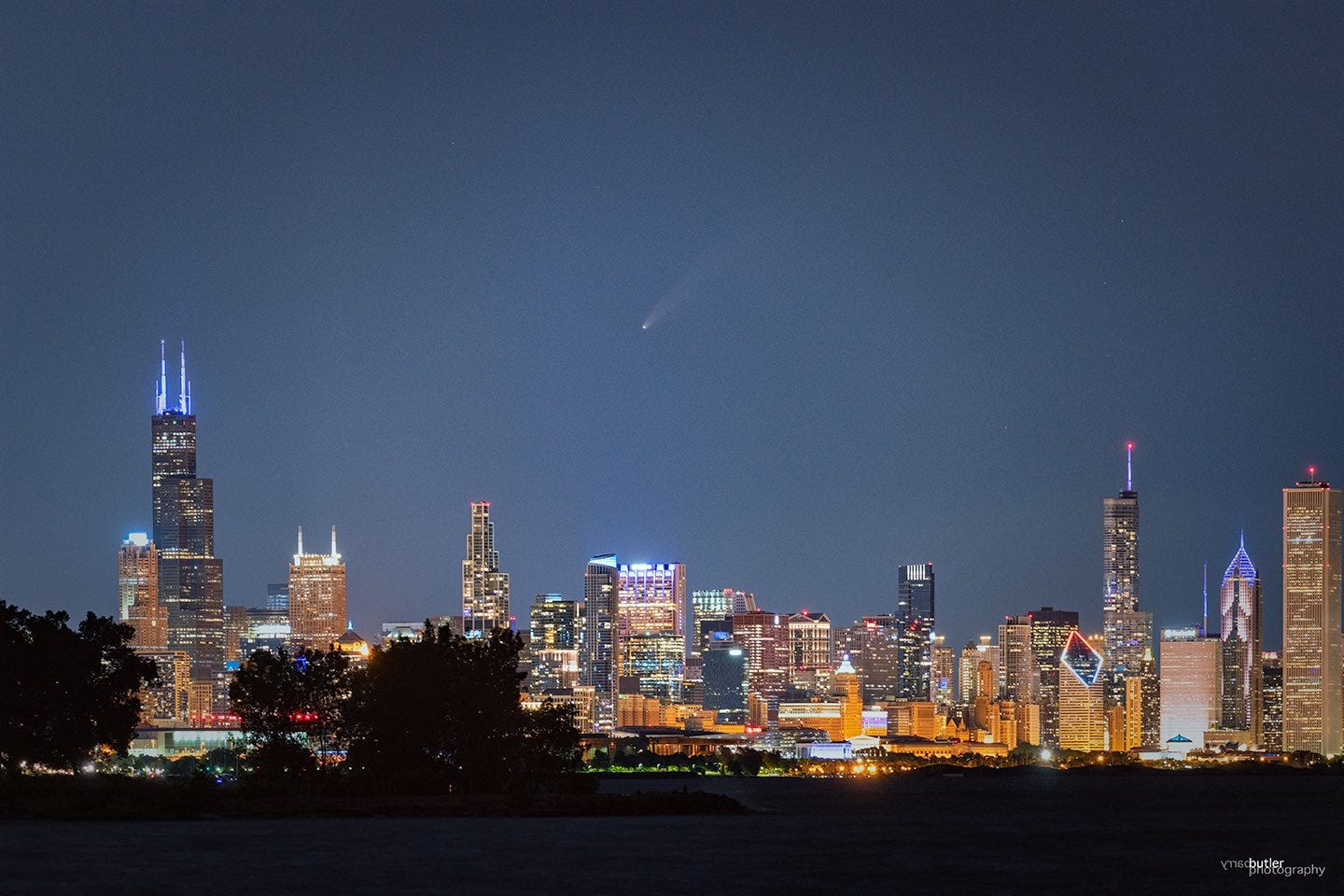 ---
Tweet of the Week
I had a chance to meet Wes Kao this week in a breakout room during Write of Passage. She's the former executive director of Seth Godin's altMBA program and phenomenally smart and personable.
I've been following her work for the past few months and it was great getting to talk to her. She gave me some tips on how to improve my website's 'Start Here' page which I plan on doing this week. I also recommend reading her latest blog post Spiky point of view and following her on Twitter!
---
Photo of the Week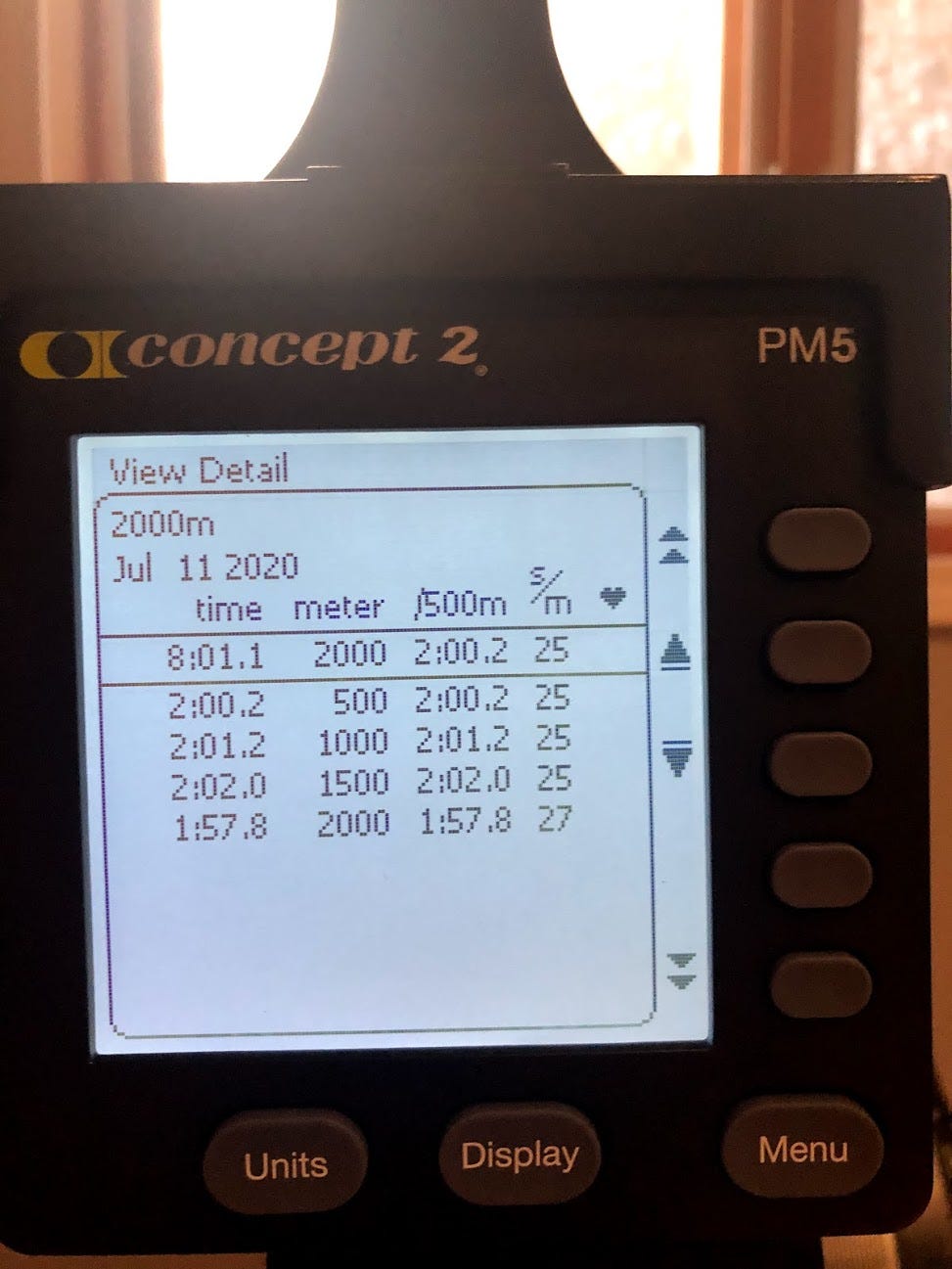 On Sunday morning, I set a personal best 8:01.1 and came *this* close to breaking 8 minutes for a 2,000m row.
The 2,000m distance in rowing is the standard benchmark fitness test. It's a good way to test your body's fitness level and your mind.
Looking at the data below—I started too quickly and couldn't hold a sub 2:01/500m pace for second and third splits, forcing me to have to work much harder on the last 500m to try and break my desired time.
My strategy for next time is to start at a 2:01/500m and get one second faster with each split. I'll let you know how it goes!
Until next week,
Lev
---
If you would love to discuss anything I've covered, please reach out to me by replying to this email or sending a direct message on Twitter at @levnaginsky
If you're reading this because someone shared this newsletter with you or you clicked a link somewhere, welcome! Please subscribe to receive future updates.