Discover more from Wednesday Wisdom
Wednesday Wisdom (#13)
Issue 13: Chicago, My Kind of Town, Worldconnectors, Mere-exposure, Netflix
Hey everybody 👋,
Greetings from Chicago.
It's been heartbreaking to watch the events unfold over the last few days around the country and here in my own neighborhood. It's hard to come up with the right words in this situation and I certainly don't feel qualified to. I've been trying to listen to different perspectives, offer my support where possible, and educate myself.
I live my life with the idea that every person should be treated with respect, no matter where they come from or what they look like. I'm outraged that we live in a time where systematic racism against African-Americans still exists and a lack of leadership in our country is not making things easier.
Packy McCormick wrote a terrific newsletter this week highlighting resources where we can educate ourselves and help—I highly recommend reading his post.
---
I published a new essay called Chicago, My Kind of Town. I've been working on this idea for the last month and it's one of the most personal things I've ever written.
It's about my experience moving a lot as a kid, growing up in Chicago, and defining what home means to me. My hope is that readers will ponder the same question for themselves.
Here's an excerpt:
In the last scene of The Wizard of Oz, Dorothy wakes up surrounded by her family. She looks around to see the faces of the people she loves and says, "there's no place like home." Dorothy's repetition of the phrase "there's no place like home" condenses the meaning of what home means for each of us. Home is a place we associate with familiarity, love, and safety. 
People always ask me where I'm from. Depending on how much time we have, my answer is entirely different. The question of where home is should be simple, but it hasn't always been that way for me.
If "where are you from?" means "where were you born?" then I'm from Russia. If it means "where did you grow up?" then it's Israel, Canada, and the United States. 
By the time I was 12 years old, my family moved to our fourth country and seventh city. Since then and for the last 20 years, the Chicago area has been where I live. When I think where I want to live for the rest of my life there is no question that's Chicago.
If you missed last week's newsletter, you can check it out here. I wrote about the Internet Tidal Wave, Instant Pot, Inklings of Oxford, Friendship Paradox, and more!
---
Interesting Things I Learned This Week
I've been reading the book Friend of a Friend: Understanding the Hidden Networks That Can Transform Your Life and Your Career so this brilliant post by Marc Geffen on his Vivid & Vague newsletter caught my attention.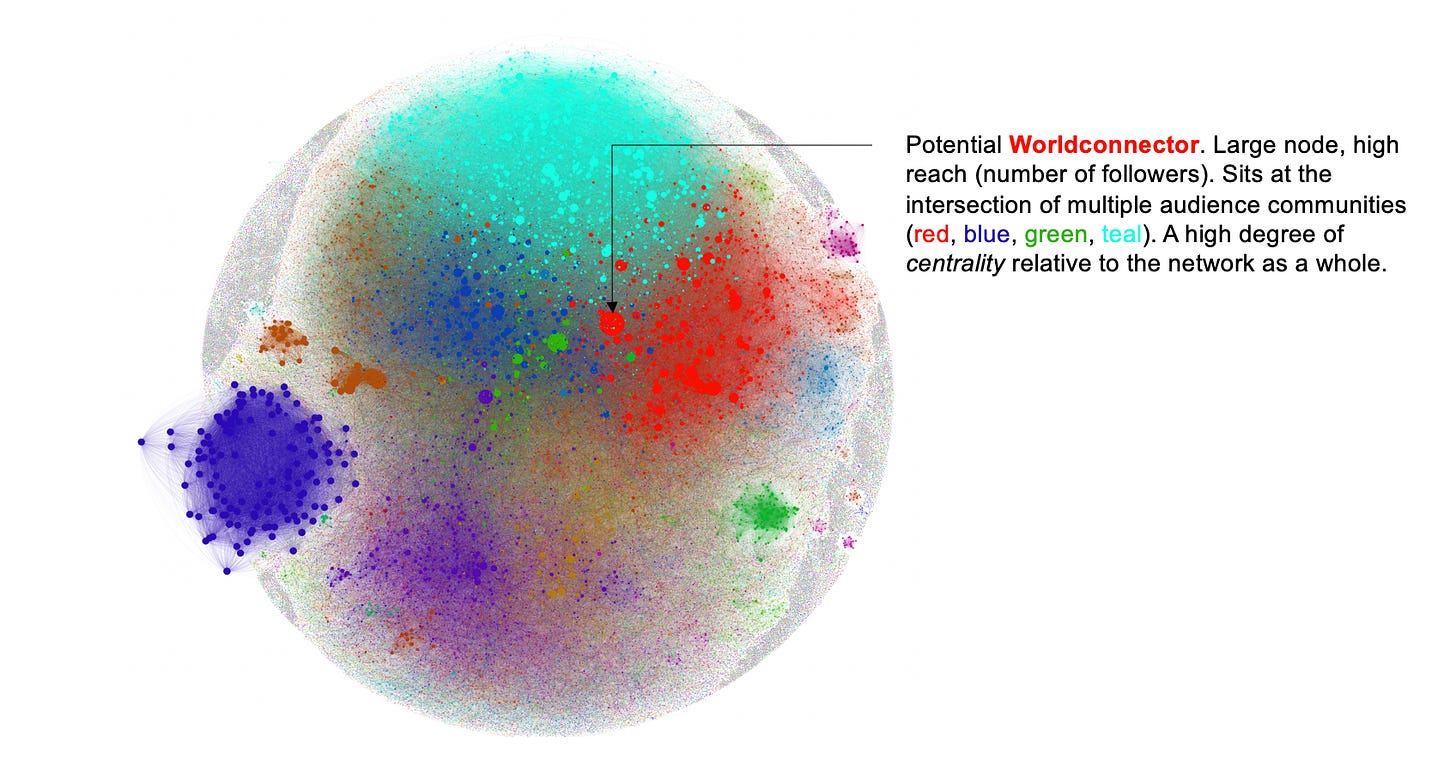 Worldconnectors don't necessarily set out to build. They set out to think, to create art or synthesize information, to infect others with ideas and feelings. They are highly generative and prolific. But their power is not a matter of top-down impact; they don't make things go viral at will. Worldconnectors are experts at setting the conditions for organic virality. 
Studying Worldconnectors can help shake us free from the lazy assumption that follower counts and impressions = influence. We like these metrics because they are a short cut, an abstraction from the living, breathing, sometimes very messy network that underlies any system where people are involved. But — as the Worldconnector shows us — we're glazing over a lot of sociological and mathematical meaning by being so obsessed with pure reach.
A quick look at social network analysis and graph theory. Here, Worldconnectors are unique, highly valuable nodes in a network.
Examples of Worldconnectors are:
John Mayer

Sam Harris

Megan Rapinoe

Action Bronson
---
This is what happens when people look at photographs of themselves and their friends that were either regular or inverted as if seen in a mirror.
We prefer the regular photos of our friends because that's how we're used to seeing them, but we like the inverted photos of ourselves because that's how we see ourselves when we look in the mirror.
---
You know that sinking feeling when you realize you signed up for something but haven't used it in ages? Netflix shared that the last thing they want is for people paying for something they're not using.
Netflix is now asking everyone who has not watched anything for a year since they joined to confirm they want to keep their membership. If customers don't confirm they want to keep subscribing, Netflix will automatically cancel their accounts.
The inactive accounts represent less than half of one percent of Netflix's overall membership, so it won't put a dent in their bottom line. But in these times where people are trying to be conservative with their spending, it's a good PR move.
We hope this new approach saves people some hard earned cash." - Eddy Wu
---
Consciously developing critical thinking skills takes thought-provoking discussion and equally thought-provoking questions.
This cheat sheet is a set of questions to ask yourself when you encounter new (or visit old) ideas and information. These questions provide great conversation starters and fillers.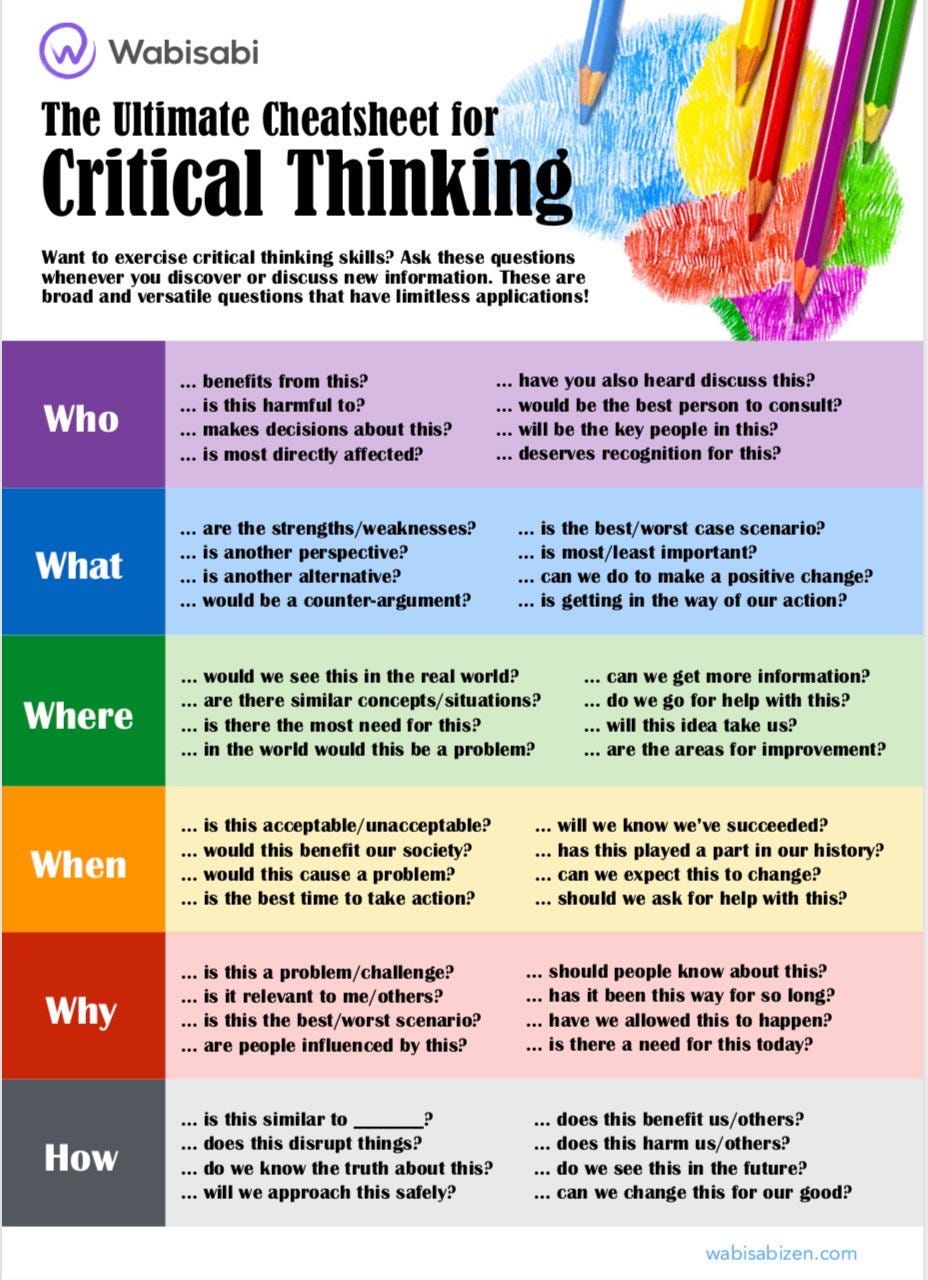 ---
Tweet of the Week
Amen, Ramses.
---
Photo of the Week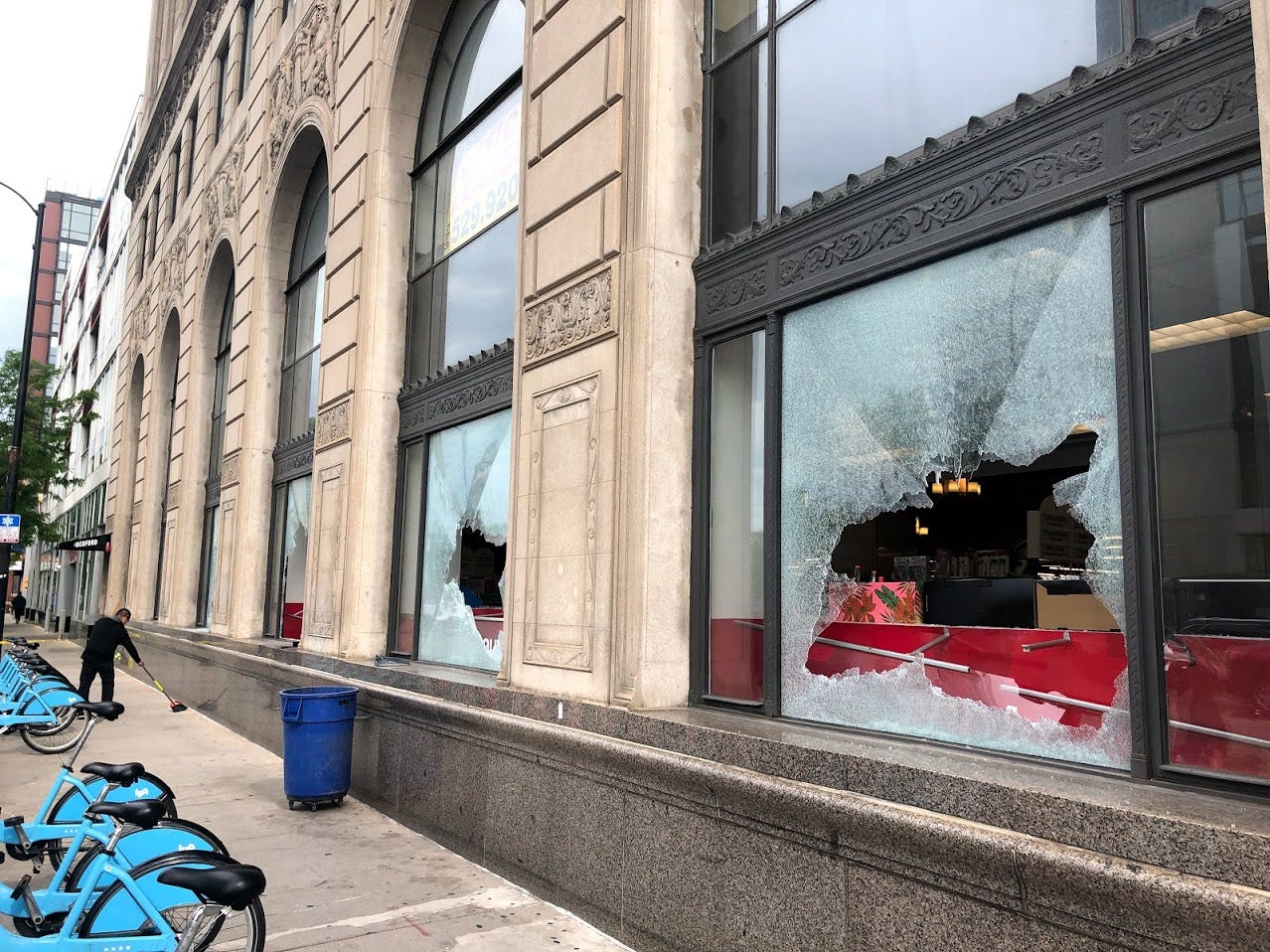 A few businesses in our neighborhood had their windows broken and some were looted on Sunday night. What struck me immediately was how many people were out the following morning helping clean up and support local business owners.
I truly hope things will get better. I will try to do my part to educate myself, break my own patterns of ignorance, and most of all—listen to people who do not look like me.
Let's be nicer to each other.
Thanks for reading and until next week,
Lev
---
If you're reading this because someone shared this newsletter with you or you clicked a link somewhere, welcome! Please subscribe to receive future updates.