Discover more from Wednesday Wisdom
Wednesday Wisdom (#10)
Chicago Edition: Second Tallest Tower, Lakefront Landfill, The Last Dance, Tock
Hey everybody 👋,
Greetings from Chicago! 
This small, humble newsletter is officially into the double digits.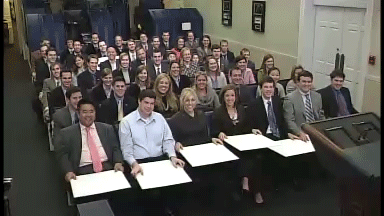 When I started this newsletter ten weeks ago, I had to do it as an assignment for the writing course I was taking. I was excited at the prospect of starting a weekly writing habit but wasn't sure how consistent it would be.
I'm happy to say that writing this newsletter has made me more curious, a more selective consumer of information, and an organized note-taker. I've been able to have interesting conversations with people I've never met and increase my Twitter activity as I share what I'm learning in public.
I would love your feedback:
What do you think I should write about more?

What do you think I should write about less?

What have you enjoyed most from what I've shared so far?

Has anything you've read in these newsletters taught you something new that stuck with you, or changed your perspective?
Looking at the Substack Dashboard, the open rates on these e-mails average around 70%. I'm interested to see how open rates and clicks evolve as subscribers continue to expand beyond those of you who have joined so far (thank you! 🙏). I would really appreciate it if you forwarded this e-mail to someone you think would enjoy it.
This week's issue of Wednesday Wisdom has a Chicago flavor. I talk about:
Proposed construction of Chicago's second-tallest building

Chicago's Lakefront Landfill

The Last Dance

Tock Update

And more!
---
Last week, the Chicago Department of Planning and Development approved plans to construct Tribune Tower East. The proposed 1,422-foot-tall tower would be the second-tallest building in the city when it's complete in 2024.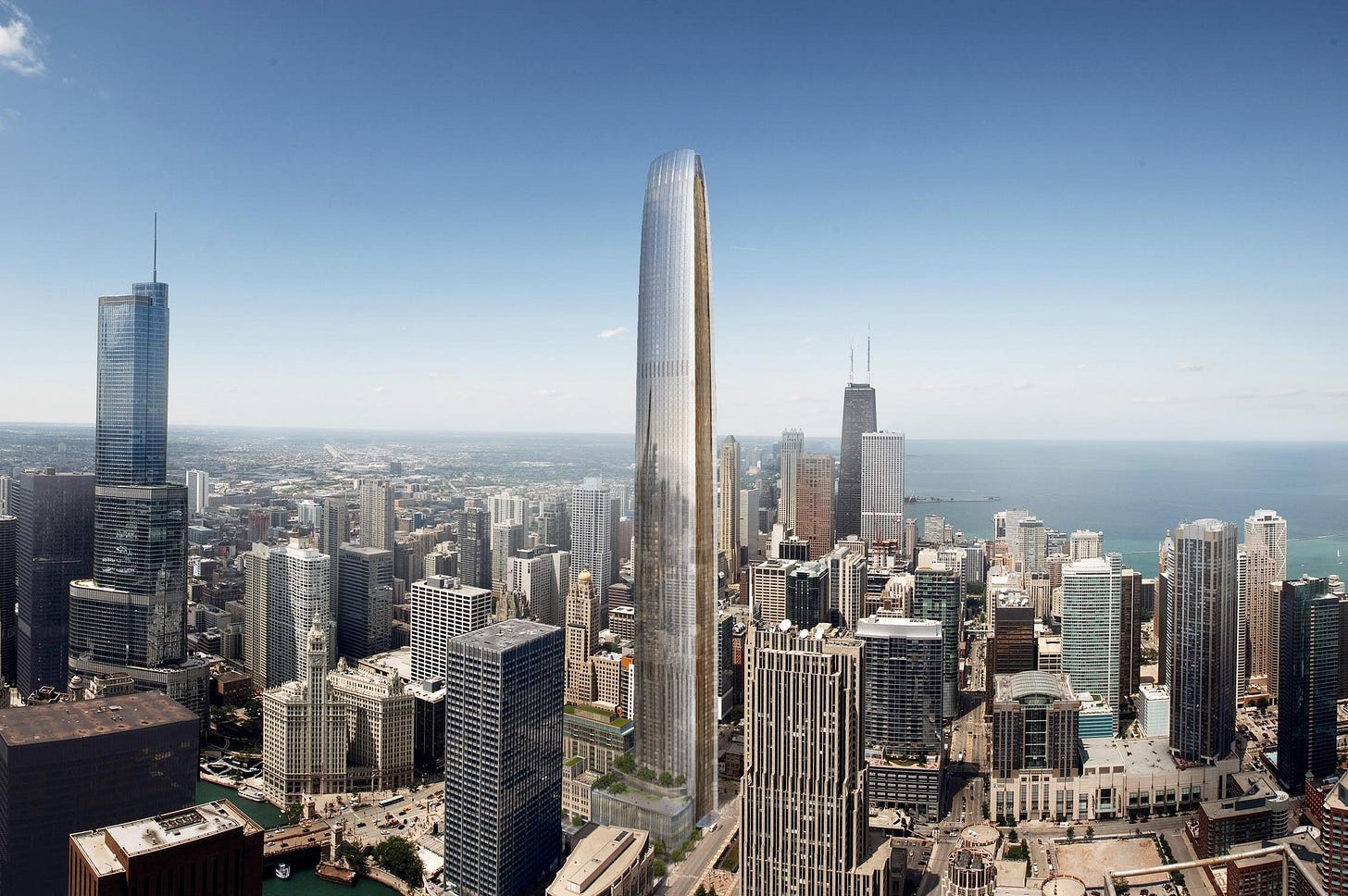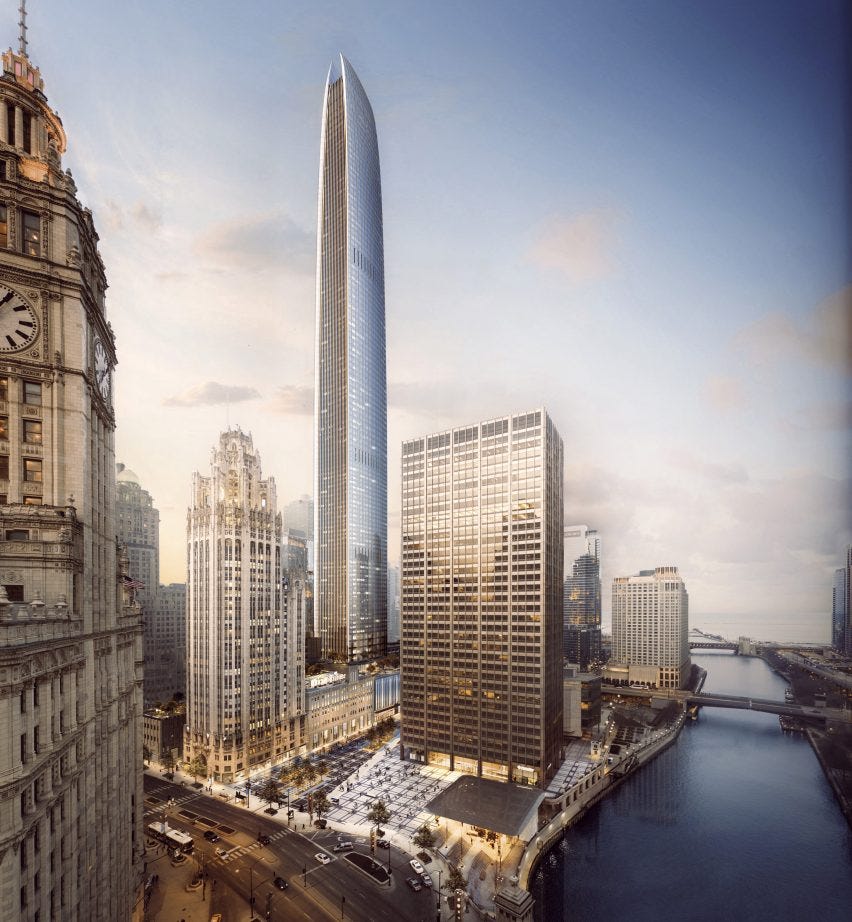 This got me thinking and I had an idea to explore Chicago's architectural history in an upcoming blog post. Thanks to several recommendations, I picked up The Devil In The White City and am excited to learn more about the city I've lived in most of my life.
---
Interesting Things I Learned This Week
Chicago's Lakefront Landfill
I found this fascinating high-resolution image of Chicago's downtown lakefront from the 1880s, superimposed with the grid of streets that were added through landfill reclamation.
The Chicago shoreline was originally a natural sand edge, with dunes and swales and marshy lowlands.
Today, the streets that were added have some of the most valuable real estate in the city, but before the reclamation, the sandy shoreline north of the river was just a wasteland known as "The Sands".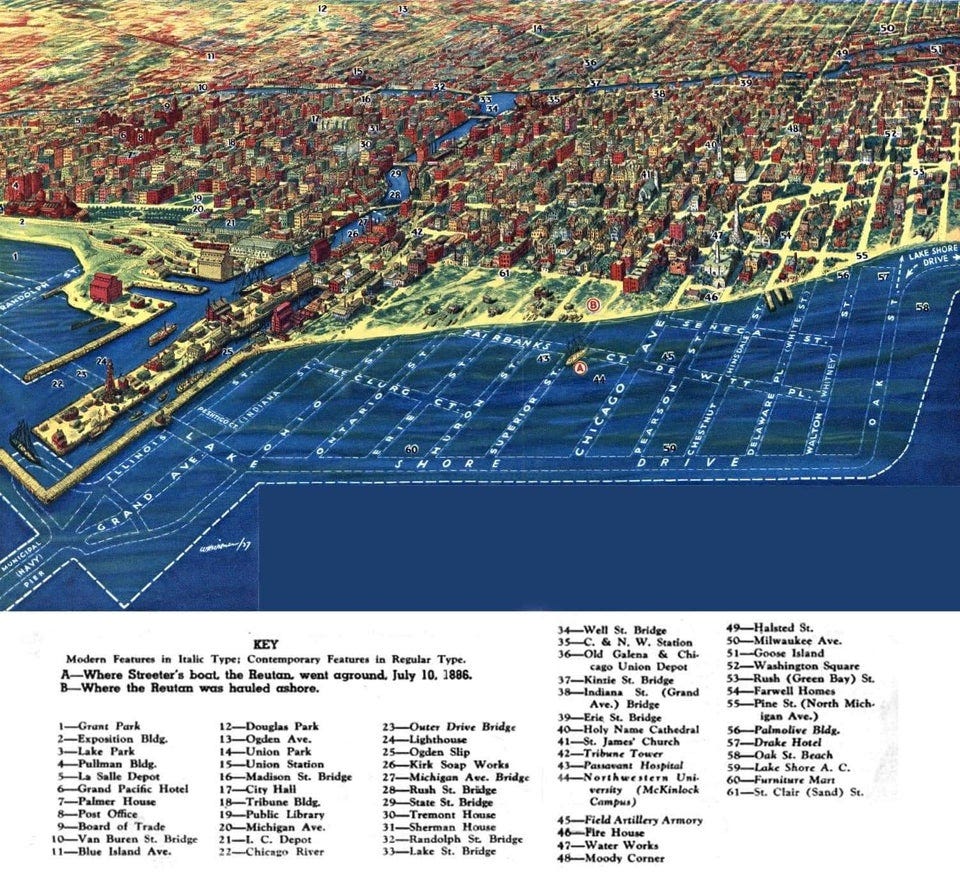 ---
The Price of Leadership
We've been watching ESPN's 'The Last Dance' documentary profiling Michael Jordan's 🐐 career and the Bulls' championship runs. In a time where we don't have live sports, the series has been spectacular.
My family moved to the Chicago area from Canada in 2000 when I was 12 so I never really had a chance to watch the dominant Chicago Bulls teams of the 90s on a daily basis. I was much more into hockey then, and I still am but I always appreciated seeing Michael Jordan's greatness on the court.
At the end of Episode 7 on Sunday, Jordan was asked if his intensity came at the expense of being perceived as a nice guy.
He got emotional and responded:
"Winning has a price and leadership has a price. I pulled people along when they didn't want to be pulled. I challenged people when they didn't want to be challenged. I earned that right."
"Once you joined the team, you lived at a certain standard that I played the game. I would not take anything less. One thing about Michael Jordan is that he never asked anyone to do anything that he didn't do."
Fred Wilson wrote in his blog:
It's a great piece of television and captures the essence of the man, how competitive he is, and how emotional he is about it all. It also captures the burden of leadership and what is required to get everyone to commit to each other and be the best that they can be. Leadership is not being liked. Leadership is being respected and followed.
---
Tock Update
I've written here before that Nick Kokonas, co-founder and CEO of Tock, as well as co-owner of The Alinea Group, has been one of the best people to follow during the pandemic from a business perspective.
Kokonas was on Tim Ferriss' podcast last week talking about a range of interesting topics including:
Asymmetric risks and opportunities: Nick's business philosophy is making decisions that have huge upsides but limited downsides. Something that is multiplicative.

Anticipating the COVID-19 shutdowns: Tock has 20-30 restaurants operating in Hong Kong. Reservations went from 95% capacity to zero as China was shutting its borders. Tock started putting together contingency plans in February. This was an asymmetric risk to the downside where Tock could have been on the hook for $10 million.

Having years of experience as a commodities trader helped guide the company's strategy. When looking at the possibility of restaurant demand decreasing 40% or worse, Kokonas guided Tock to plan for staffing changes, food purchasing, PR messaging.

Transition to carryout business: The experience a diner has at Alinea is as far from carryout as one can imagine. The average ticket is $350/person on a normal night and the restaurant does $20 million/yr in revenue with an annual payroll of $7 million. Despite the restricted circumstances, Alinea figured out how to sell carry out orders that are $35/person and still delicious.

Tock To Go: prototyped and shipped in six days.

Supply chain disruptions: restaurants are being forced to liquidate their inventory of wine to generate cash flow that would otherwise come from normal business operations.
"You want to be a buyer when everyone in the world says it's not worth being a buyer as long as what you're buying has some intrinsic value. And vice versa."
What types of restaurants will survive? Restaurants that have expanded too aggressively without much regard to cash flow will be in trouble. Restaurants that were better at managing their balance sheets will be able to weather the economic uncertainty they face due to the limited ability to operate their businesses.
"There's some 25-year-old chef out there and she's itching to do her own restaurant but couldn't afford the lease or couldn't find the backers. A year from now there's going to be some empty kitchen that she will get at half price and all of a sudden, she's going to kick our ass. The new Alinea is going to come a year from now to kick our butt. And that's a good thing."
Why gift certificates to restaurants are a bad idea: gift certificates are liabilities on the balance sheet. You're better off channeling the money to organizations who can leverage it in a more impactful way like José Andrés' World Central Kitchen. If you want to help your local restaurant, buy food directly from them. If you buy a gift certificate and use it in four months, restaurants used the money four months ago.
---
This photo of the ISS passing the Sun and Moon was captured by Astrophotographer Andrew McCarthy.
The reason why the ISS keeps its relative size against both the Sun and the Moon is due to a remarkable coincidence: the diameter of the Moon is 400x smaller than the diameter of the Sun, but it is also 400x closer to us!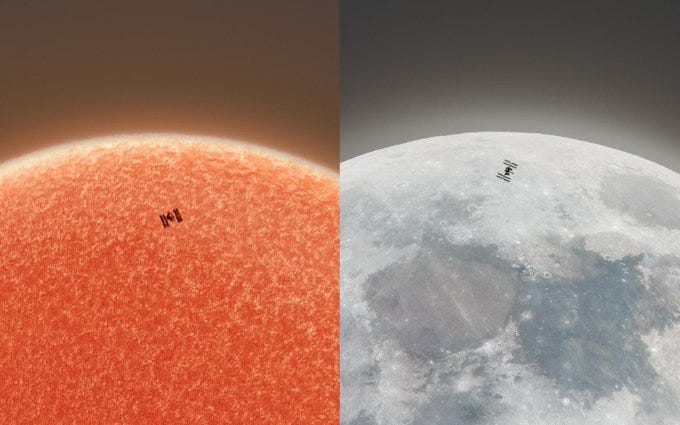 ---
Photos of the Week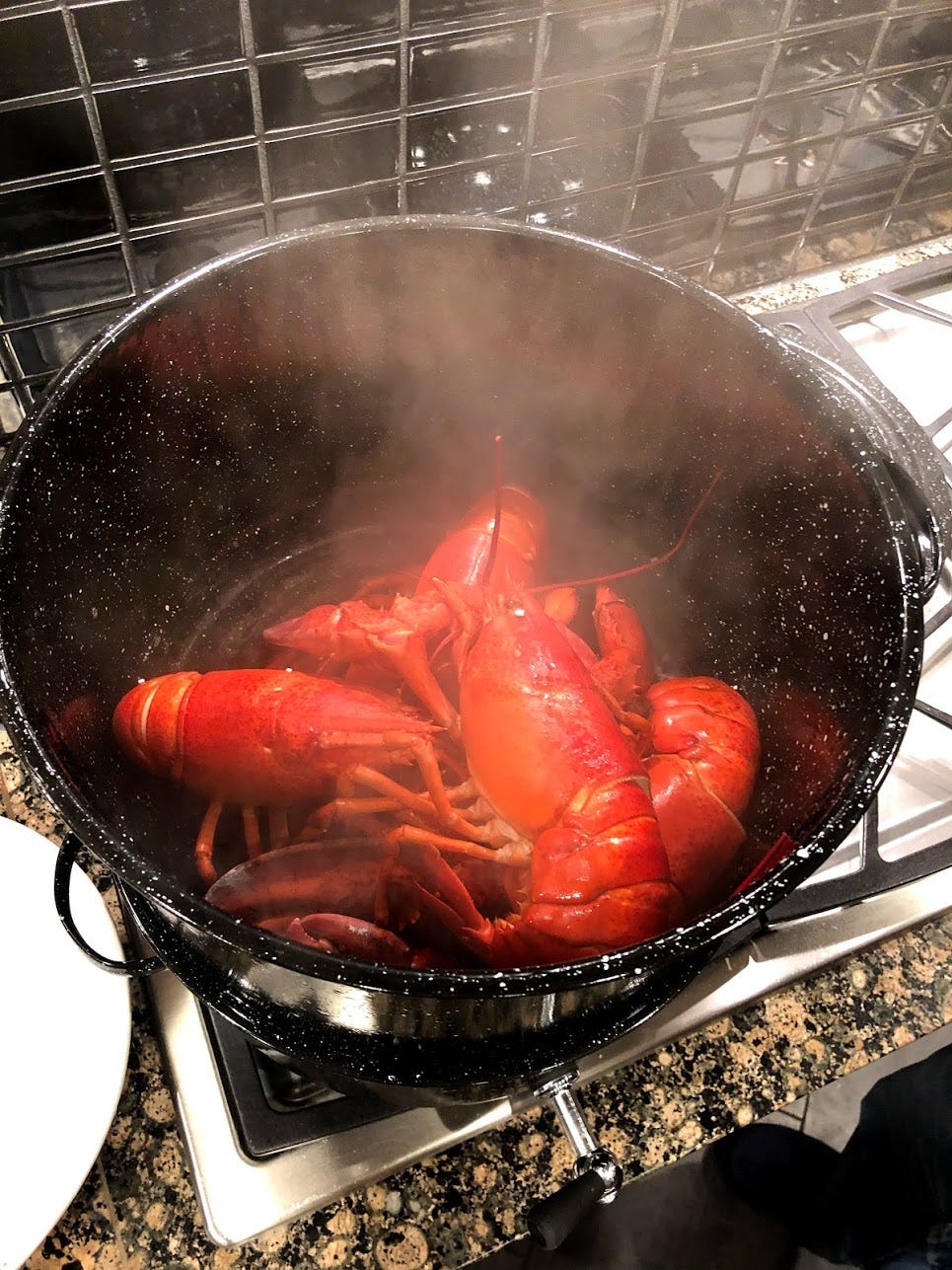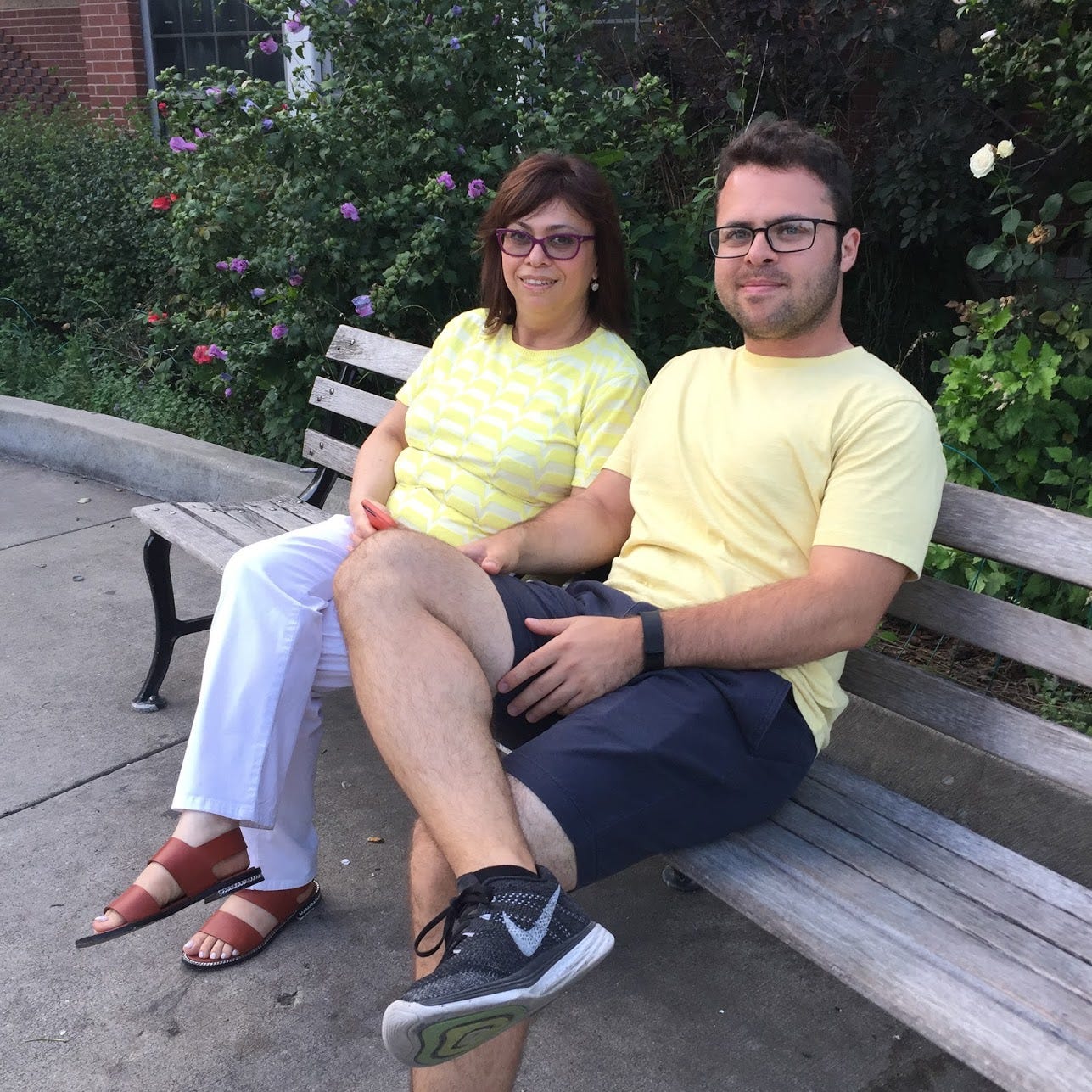 With the stay-at-home order in Chicago, we've been cautious about leaving the house and seeing too many people. On Mother's Day weekend, we missed our families and felt it was appropriate to be with them.
On Saturday, we cooked fresh lobsters with my fiancée's parents and on Sunday saw my parents and had dinner with them as well.
Zoom and FaceTime are great, but seeing the people we love in person is priceless.
---
If you're reading this because someone shared this newsletter with you or you clicked a link somewhere, welcome! Please subscribe to receive future updates.
Until next week,
Lev