Discover more from Wednesday Wisdom
Wednesday Wisdom #1
Hi everybody 👋,
Thank you for signing up for the Wednesday Wisdom newsletter! I hope you find this insightful, entertaining, and helpful.
I wanted to give a bit more context to how this newsletter came about. I'm taking an online writing course called Write of Passage.
The reasons I wanted to sign up for Write of Passage were:
publish content consistently.

maintain a body of work to serve my intellectual curiosity and professional development.

build personal and professional opportunities with a network of like-minded people.
This week's assignment was to ask 20 people to sign up for our newsletter (almost there. thank you!). This is by far the most nerve-wracking assignment because it means I have to actually ask people to sign up and read what I write. I'm excited to share what I've found interesting this week!
With that out of the way, I want to talk about:
The Emotional Journey of Creating Anything Great 😕

The Ride of a Lifetime 📚

Making Foods Crispy [**highly recommend this one**!] 🥓

F1: Drive to Survive 🏎️

Bottomless Coffee ☕

---
The Emotional Journey of Creating Anything Great 
📓 Now that I'm in the middle of the 5-week course, this graph caught my attention.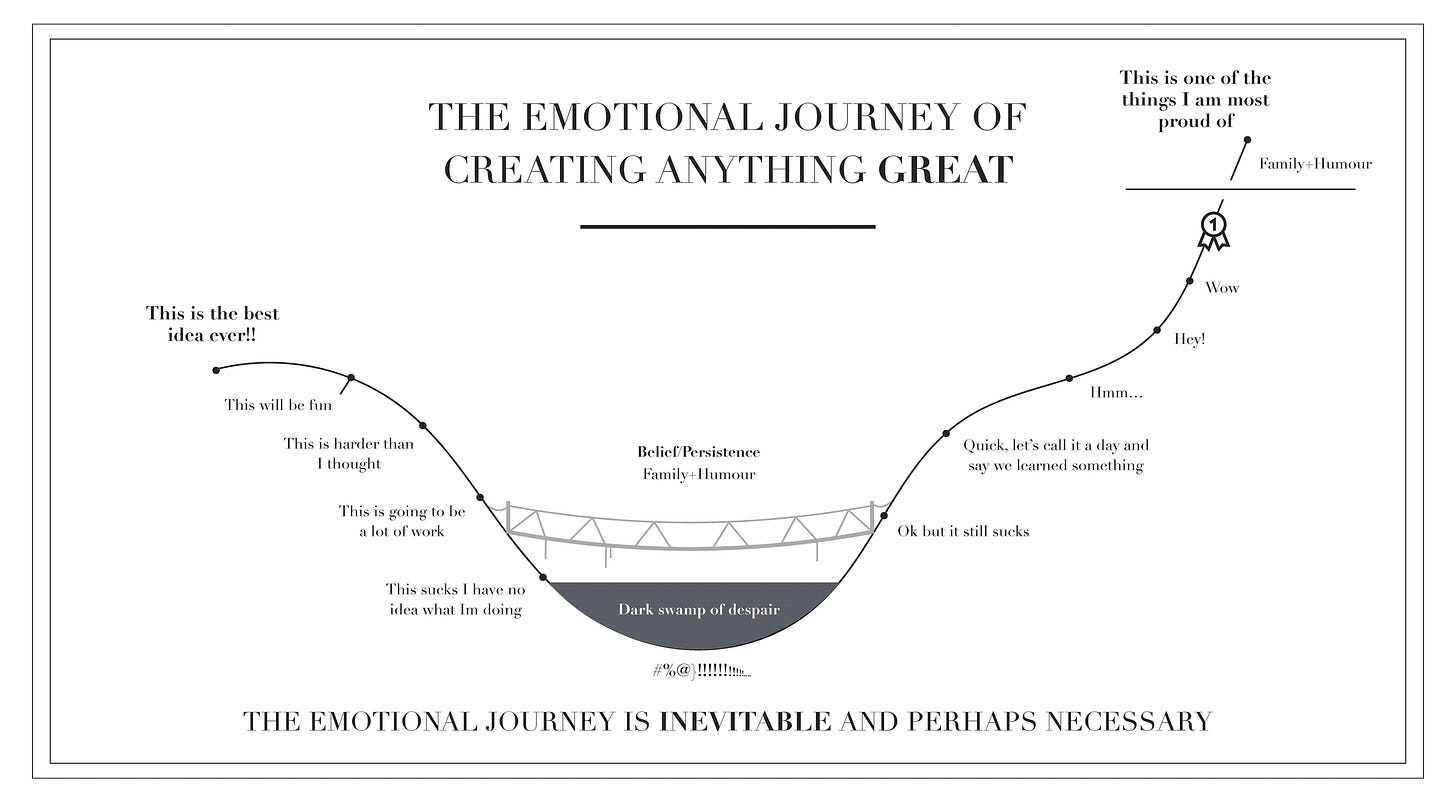 All these thoughts go through your mind when you take on something challenging. In the 'dark swamp of despair', it's encouraging to know my classmates are going through the same experiences and have the same emotions. Positive feedback loops push us to persist and work hard as we grasp the journey of writing online.
The unexpected benefit of the class is pushing me to share my thoughts; to get over the fear that my writing isn't interesting or valuable. Because I'm putting my work out into the world, it's forcing me to make what I share interesting and valuable.
---
Reading, Listening and Watching
📚 This week, I read The Ride of a Lifetime by Disney CEO Robert Iger. It's one of the best books I've read by a CEO. Iger started his career at ABC in 1974, performing menial labor on television sets for $150 a week. He stepped down as CEO of Disney on Feb 25th, 2020. He oversaw the acquisition of Pixar, Marvel, Lucasfilm, 21th Century Fox, and the launch of Disney+.
Throughout the book, Iger's vulnerability and honesty resonated with me.
His feelings about his parents:
"Late in life, after I'd become CEO of Disney, I took my father to lunch in New York. We talked about his mental health and his perspective on his life. I told him how much I appreciated everything that he and my mom had done for us, the ethics they instilled, and the love they gave us. I told him that was enough, more than enough, and wished that my gratitude might liberate him in some small way from disappointment. I do know that so many of the traits that served me well in my career started with him. I hope that he understood that, too."
His friendship with Steve Jobs:
"You don't expect to develop such close friendships late in life, but when I think back on my time as CEO—at the things I'm most grateful for and surprised by—my relationship with Steve is one of them. He could criticize me, and I could disagree, and neither of us took it too personally. Plenty of people warned me that the worst thing I could do was let Steve into the company, that he would bully me and everyone else. I always said the same thing: "How can Steve Jobs coming into our company not be a good thing? Even if it comes at my expense? Who wouldn't want Steve Jobs to have influence over how a company is run?"
How close Disney came to acquiring Twitter:
"In the summer of 2016, we expressed interest to Twitter. They were intrigued, but felt they had an obligation to test the market, and so we reluctantly entered into an auction to buy them. By early fall, we'd virtually closed a deal. Twitter's board supported the sale, and on a Friday afternoon in October, our board gave their approval to finalize a deal. Then, that weekend, I decided not to go through with it. If earlier acquisitions, especially Pixar, were about trusting my instinct that it was the right thing for the company, the acquisition of Twitter was the opposite of that. Something inside me didn't feel right."
I found the article through a service I subscribe to called The Browser. It shares a daily list of five recommended articles about any topic imaginable. As somebody who LOVES crispy/crunchy food, this article caught my attention as it explains the science behind why people love it. The research found that people find crispy food "appealing" and "enjoyable". They associate crispy and crunchy food sounds with "fun" and "pleasantness". To test crispiness, Frito-Lay uses a machine called a Texturometer. It's a mechanical mouth that spits out readings on crispiness and other traits.
"Neurons in our orbitofrontal cortex DING DING DING like game-show bells whenever we eat crispy foods."
When we bite into crispy food, the crunch in our teeth vibrates from our jaw to our ears. We hear this and feel it. It's a huge part of why people like me find crispy foods exciting!
📺 Netflix released its newest season of "F1: Drive to Survive" on Feb 28th. I loved S1 and couldn't wait for S2 to come out. The documentary follows the Formula One season from start to finish with access to each team and driver. It's the best soap opera in sports. The two biggest teams, Mercedes and Ferrari, did not take part in the first season. After the show's success in S1, they decided to join and were featured in fantastic episodes in S2. Drive to Survive has been instrumental in driving (heh) new fans to the sport.
Like any self-respecting millennial, it didn't take me long to devour the entire season in a few days. It's a fascinating dichotomy between three classes of teams. Mercedes, Ferrari, and Red Bull are powerful and have unlimited financial resources. At each race, they are a virtual lock to stand on the podium. McLaren, Renault, Toro Rosso, and Racing Point are the midfield. The drama unfolds as they battle each other for fourth place in the season-long Constructor Standings. Where the series shines is the feature of the bottom teams, Haas and Williams. They are resource-constrained and quirky. Williams was so handicapped by their lack of resources that they missed testing last year due to not having their car built on time.
Watching an F1 race after the series helps you appreciate not only the battle for first place, but even a pass for 10th.
If you would like to learn more about F1, I highly recommend this guide.
Bottomless Coffee
☕ If you know me, you'll know that I am a true coffee lover. About a year ago, I heard about Bottomless while listening to Patrick O'Shaughnessy's podcast, Invest Like The Best. Bottomless tries to solve the problem most of us have when we buy fresh coffee. We either have too much or run out right when we need it. Bottomless ships a simple, wi-fi connected scale that you keep wherever you store your coffee beans. The scale measures how much coffee is inside the bag. As soon as you're running low on beans, it triggers an order for a new bag. It's magic…
This is the reading from my scale:

Followed by an automated text from Bottomless saying my coffee was ordered: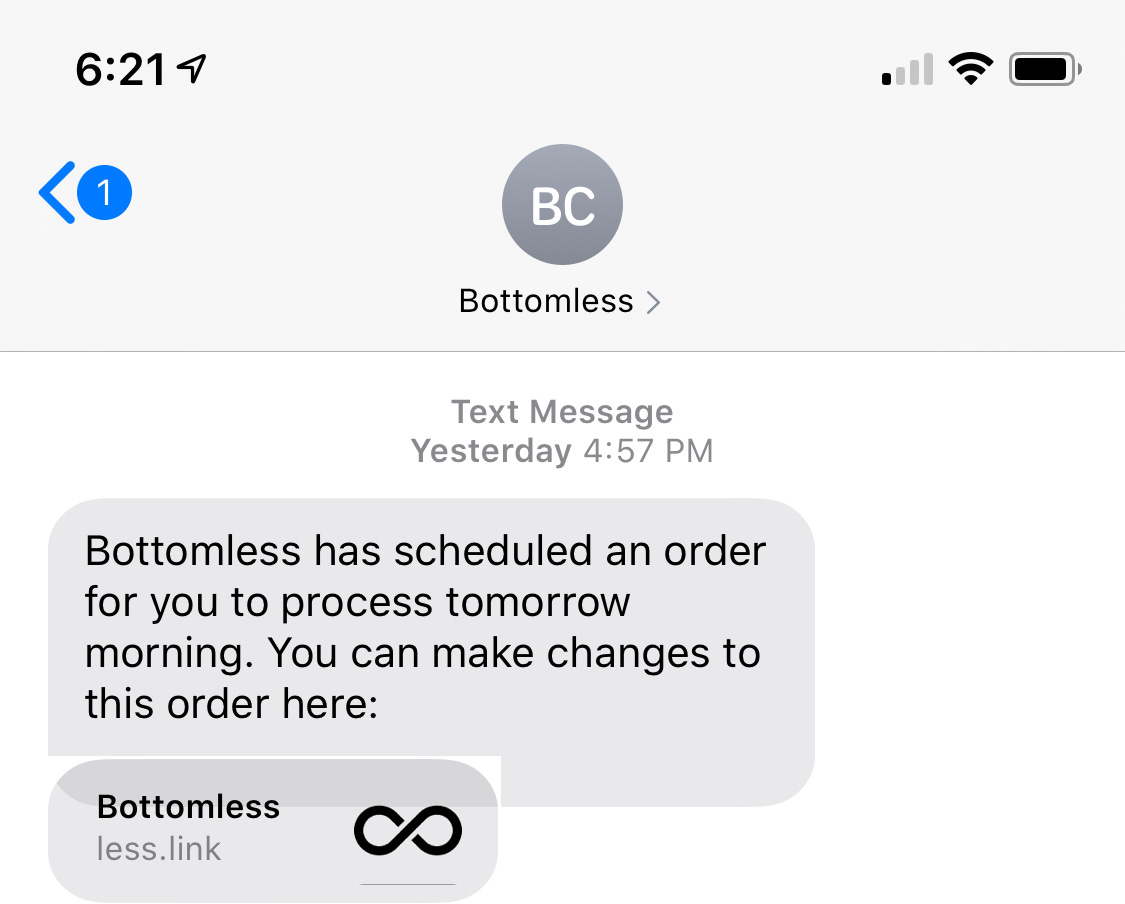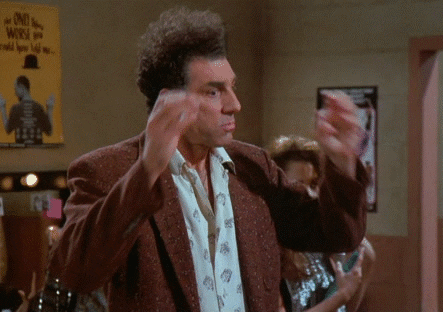 Until next week,
Lev
---
Thank you for reading. Feel free to forward this to anyone you like. If you have any feedback, advice, or thoughts on what I shared, please email me at lev.naginsky@gmail.com or tweet me at @levnaginsky